Young people from ethnic minorities most positive about universities - poll
Posted on: 2018-11-15 07:00:00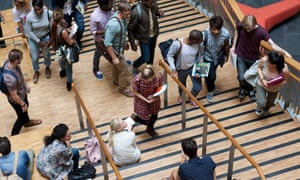 55% of 18-24 year-olds and 44% of 25-34 year-olds felt universities had a positive impact on them personally. Photograph: Alamy Stock Photo
Far more young people than older people think that they have personally benefitted from universities – primarily in terms of improved job prospects, according to new research from Universities UK.
Polling showed that 55% of 18-24 year-olds and 44% of 25-34 year-olds felt universities had a positive impact on them personally, compared to just 35% of people aged over 65. People in the younger age groups are more likely to have attended university, since nearly half now enter a degree by the age of 30.
Of all those surveyed, nearly two-thirds saw the worth of universities purely in terms of improved job prospects. However, nearly half of those surveyed thought the cost of university outweighs the benefits. One respondent commented: "To come out with £30,000 of debt for something she may not use in her career, I'd probably tell her not to go."
The poll of 2,063 UK adults, carried out by Britain Thinks, is intended to capture public opinion at a time when universities feel they are portrayed increasingly negatively in the media and by politicians.
Less than half the respondents felt positively towards universities, though only 9% said they feel negatively towards them. Only a minority said they felt they knew what universities do.
Asked what they would like to know most about universities, the largest response was to hear more about research breakthroughs, for instance in medical technologies or consumer products.
The research also examined attitudes among different ethnic groups. Although the issue of underperformance at university among students from some ethnic minorities has been in the spotlight in recent months, the polling showed that black and minority ethnic adults feel more positively towards universities than their white counterparts. They are much more likely to say that universities have a positive impact on their family than white adults (60% compared to 43%), as well as on the UK as a whole (68% compared to 57%).
Professor Janet Beer, president of Universities UK and vice-chancellor of the University of Liverpool, said the research was intended to tackle the "myth that the public are sceptical about the merits of universities and that an increasingly large number of young people think higher education is a waste of time".
"Since 2010 universities have become a combination of piggy bank and punchbag for politicians," she said. "[The results] reveal that the public has not lost faith in Britain's universities. In fact, the public view universities as a vital force not just for individual advancement, but for cultural enrichment and national prosperity."
Rachel Hall
Source: The Guardian