University grade inflation to be tackled as first-class degrees rise
Posted on: 2018-10-22 01:00:00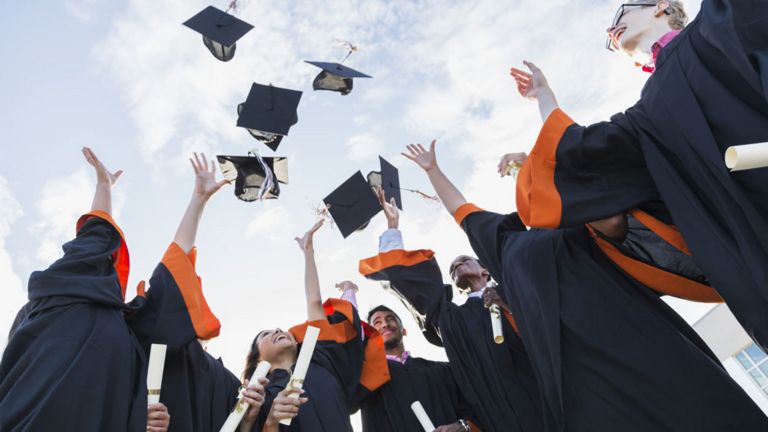 More than a quarter of students are now graduating with a first-class degree
Figures suggest that degrees are being "marked up", meaning students are leaving with a higher grade than a comparable student in previous years.

A government rating system introduced last year is to be broadened to include how students reach their final grading.
More than a quarter of students are now graduating with a first-class degree.
"When you look at what makes our universities so prestigious, it comes down to the value of our degrees," said Universities Minister Sam Gyimah.
"The value of those degrees is threatened by grade inflation and that is a problem for students, employers and the universities themselves."
The Teaching Excellence and Student Outcomes Framework (TEF) - introduced in June 2017 - ranks universities as gold, silver or bronze by assessing multiple factors including student experience, the quality of teaching and whether courses are difficult enough.
Now the government is piloting a ratings chart for individual subjects taught at university, taking into account student feedback on the course, drop-out rates and graduation outcomes.
Mr Gyimah said he hoped it would "discourage universities from undermining... a degree qualification".
Longer-term trend
Universities are their own degree-awarding bodies, so can decide their own degree grades.
Figures released by the Higher Education Statistics Agency show that 26% of students are now graduating with a first-class degree, up from 18% in 2012-13.
The increase is part of a longer term trend. In the early 1990s, only about 8% of students achieved a first.
"There are people who think the system isn't as robust as it might be," Nick Hillman, head of the Higher Education Policy Institute told the BBC last year.
A spokesman for Universities UK, which represents higher education institutions, said they too would be proposing measures to tackle the practice of grade inflation.
"It is essential that students, employers and the public have confidence in the ongoing value of a UK degree," the spokesman said.
He suggested that changes in the sector, including greater investment in the quality of teaching and technology, could be factors in the rise in first-class degrees, alongside the fact that, as they are having to invest more in their own education, "students may be working harder to achieve higher grades".
Tuition fees were first introduced in 1998, but basic fees were trebled in 2012.
Research in 2014 by Lancaster University argued that improvements in degree grades were in line with the rising quality of the intake, as shown by A-level grades.
The only sign of "leniency" was among top universities, which researchers found were 8% more likely to award higher degrees.
Speaking earlier this year, Education Secretary Damian Hinds said universities needed to act to protect the value of degrees.
He said the government had put an end to grade inflation in schools and "it is time for universities to do the same".
Source: BBC News