Universal Credit: Single mums take government to court
Posted on: 2018-11-27 13:00:00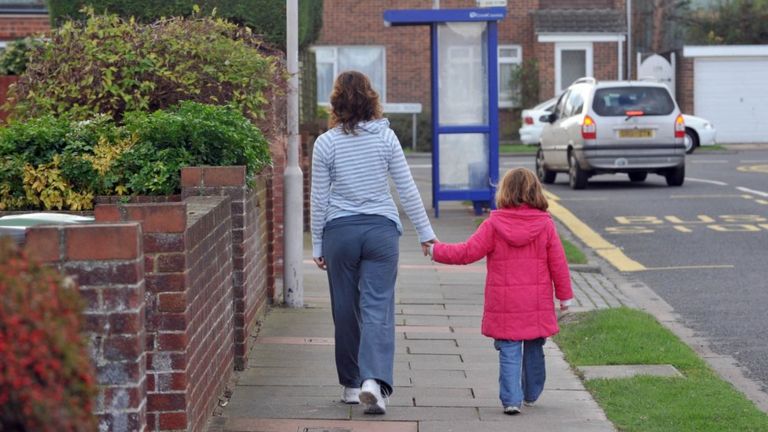 The mothers claim single parents are being disproportionately hit by the system (picture illustrated by models)
Danielle Johnson, 25, from West Yorkshire, said: "I have never been this financially unstable before."
Together with three other single mums, she is claiming in the High Court that the new payment system disproportionately affects single parents - most of them women.
UC is a means-tested benefit.
It rolls six separate benefits into one payment and has proved controversial almost from its inception, with reports of IT issues, massive overspends, administrative problems and delays to the scheme's roll-out.
Lawyers acting for the women will now argue there is a "fundamental problem" with Universal Credit, which is likely to affect "tens of thousands" of people claiming benefits, caused by a "rigid, inflexible assessment system".
Ms Johnson, like many employees, is paid on the last working day of the month.
However, her monthly Universal Credit assessment periods are rigidly fixed, running from the last day of each month.
This means that that if she is paid before the last day of the month and payment day falls on a weekend or non-banking day, she is assessed as having been paid twice that month. As a result she receives less benefit and is short of money the following month.
Ms Johnson said: "I'm doing my best working part-time to make ends meet so that I can look after my daughter.
"I have never been this financially unstable before, to the point of being unable to afford my rent and having to go into my overdraft when buying food.
"It is getting me into a vicious cycle of debt," she said.
Ms Johnson's lawyers, Leigh Day, said Ms Johnson was about £500-a-year worse off and struggled to budget in months when she received no benefit because of the way the system operated.
Claire Woods, another single mother, said wildly fluctuating income from month to month has forced her to turn down a promotion, use a food bank and incur debts.
In a previous job working for a County Council, Ms Woods was paid at the end of every month which would clash with her Universal Credit assessment period.
As a result, she lost money, couldn't meet her monthly outgoings and lived with the anxiety of a fluctuating income.
When the council offered her a promotion, she knew the payment clash would remain, so did not take it up.
"I had to go to a food bank and I took out an advance that I am still paying back," she said.
"I took two jobs - as a PA and a waitress - which I could do without the education I invested in, but which had paydays which don't clash with my assessment period.
"I invested £40,000 in higher education studies so that I could become an occupational therapist and it's great that I've got my degree but I have had to put my career hopes on hold because of Universal Credit."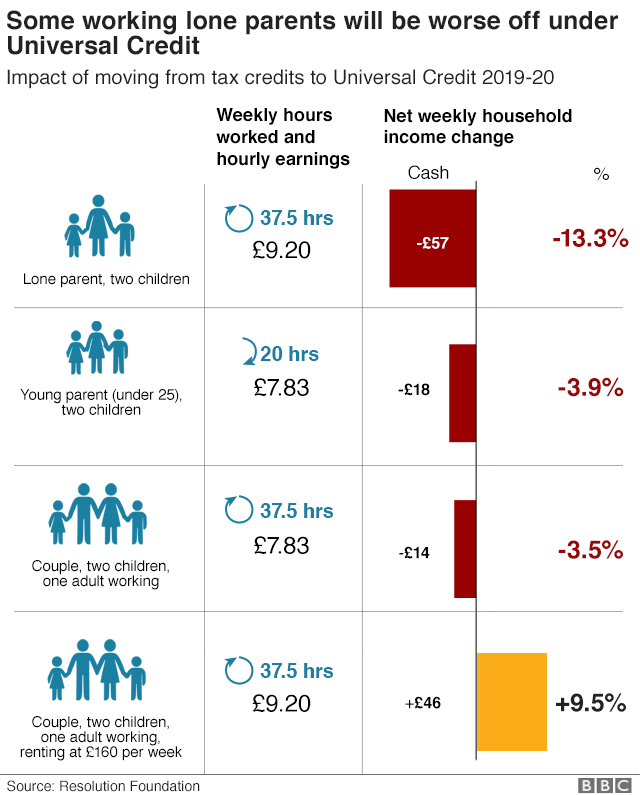 Child Poverty Action Group's solicitor Carla Clarke, who is representing Ms Woods and fellow claimants Erin Barrett and Katie Stewart, said: "Our clients have been left repeatedly without money for family essentials simply because of the date of their paydays.
"This is a fundamental defect in Universal Credit and an injustice to hard-working parents and their children that must be put right for our clients and everyone else affected."
The two-day hearing is under way at the Royal Courts of Justice. Judges are not expected to make a judgment until later in the year.
Source: BBC News