Unconditional offers used to 'get people through door'
Posted on: 2018-11-29 02:00:00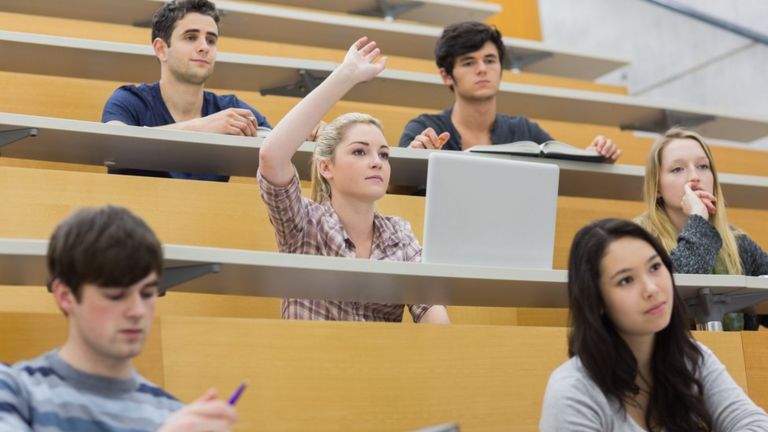 They are telling students that A-level grade requirements will be dropped completely if they put the university down as their first choice.
It comes as new Ucas figures show one-third of applicants aged 18 received an unconditional offer last year.
Education Secretary Damian Hinds said the proportion was "disturbing".
He added: "The systematic use of unconditional offers is not in the interest of students and they should not be used just to get people through the door.
"I expect universities to use them responsibly and where institutions cannot justify the rising numbers being offered, I have made clear to the Office for Students that they should use the full range of powers at their disposal to take action."
Regrets?
Head teachers urged students to resist the "inducement" of such offers and universities to stop making them.
Association of School and College Leaders general secretary Geoff Barton said the practice could lead students to choose a course which is not the right one for them.
"We are particularly concerned about students being required to make a university their first choice in return for an unconditional offer.
"It is essential that students choose the course which is right for them rather than ending up on an unsuitable course which they later regret.
"We advise them to resist this inducement and urge universities to desist from this practice."
Ucas has analysed the impact of what it calls "conditional unconditional offers" for the first time.
It defined conditional unconditional ones as those which are initially made by the university as conditional, then updated to unconditional if the offer is accepted as the student's first (firm) choice.
It also found 34.4% of 18-year-old applicants from England, Wales and Northern Ireland received at least one unconditional offer. In Scotland, the applications process is arranged differently and so are not included in the analysis.
These figures now include the conditional unconditional offers, and have pushed the figures up for 2018 from 23%.
There has been a steady rise in their use over the past few years, because higher education providers are now able to recruit unlimited numbers of students.
'Wellbeing'
Ucas said: "Unconditional offers are made by universities and colleges that are satisfied applicants have demonstrated sufficient ability and potential to succeed on their chosen course.
"This may include consideration of exam results, and outcomes from interviews or auditions. For example, 18% of offers made to applicants for creative arts courses are unconditional, where more emphasis could be placed on a strong portfolio.
"Unconditional offers are also made to support widening participation, and to address the health and wellbeing needs of some students.
"Many students responding to Ucas's survey reported a reduction in stress knowing they had a confirmed place."
But it also highlighted how more students with unconditional offers than those with conditional offers miss out on their predicted grades.
Ucas chief executive Clare Marchant said unconditional offers were used "in a variety of ways to enable students to progress on to undergraduate courses."
She added that while students are broadly supportive of them, "the link with their A-level attainment can't be ignored".
Mr Barton said: "It is clear this practice is now completely out of control and is driven by market forces rather than by educational considerations.
"The problem with unconditional offers is that some students take their foot off the gas and underachieve in A-levels or other qualifications and this hampers their employment prospects later in life."
By Hannah Richardson
Source: BBC News education and social affairs reporter