'Trojan Horse' hearings against teachers and governor cost £1.27m
Posted on: 2018-08-17 00:00:00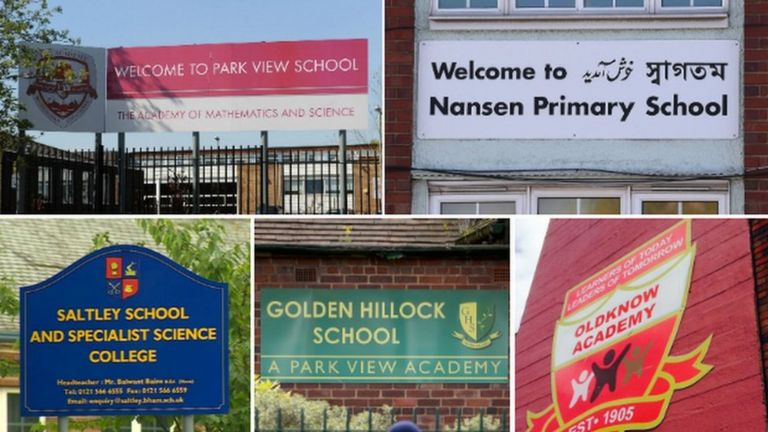 The alleged "Trojan Horse" plot was to oust some Birmingham head teachers and make their schools adhere to more conservative Islamic principles
The case to ban from education the ex-chair of governors for three Birmingham schools that were investigated, Tahir Alam, also cost £387,444 in legal fees.
Witness statements from a prior inquiry had been "deliberately withheld" before the hearings were dropped in May 2017.
The government said it made "no apology for working to protect young people".
The BBC has fought a Freedom of Information battle since April 2017 to reveal the costs, which succeeded when the Government's data watchdog The Information Commissioner's Office ordered the Department for Education (DfE) to release the information after backing the corporation's public interest arguments.
The only teacher who was sanctioned - out of 14 against whom the DfE pursued hearings - was the former acting head teacher of Oldknow Academy in Small Heath, Jahangir Akbar.
Banned governor Mr Alam said the cases were a "total waste of public money" that achieved little.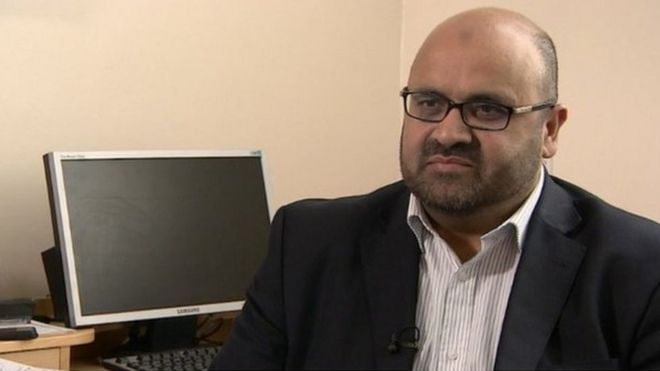 Tahir Alam was chairman of governors at Park View School in Birmingham from 1997-2014
Several schools in Birmingham were investigated amid claims of a Muslim hardliners' plot to control them, known as the Trojan Horse affair, which began in 2014.
The teachers' hearings stemmed from that investigation but were dropped when the professional conduct panel of the National College for Teaching and Leadership (NCTL) found its own organisation withheld 25 statements that had been used in an an earlier inquiry led by former counter-terror boss Peter Clarke.
The DfE said it was "looking carefully" at the handling of the cases, which were "led by an external law firm".
The teachers were not permitted to work while the hearings, which began in 2015, were ongoing.
Lawyers for two of the accused teachers, Monzoor Hussain and Lindsey Clark, had issued separate statements when the hearings were dropped saying both parties were relieved.
The inquiry has "caused long-term damage" and "divided communities" in Birmingham, according to the co-author of a play about it, Helen Monks.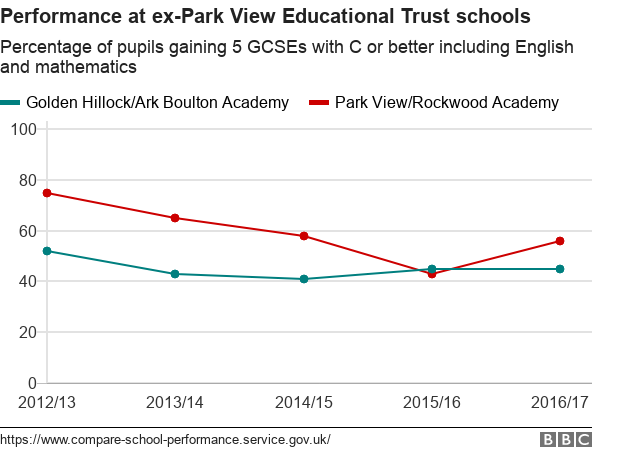 The alleged plot caused such outrage because the accusation centred on the claim children were being fed a one-sided education and view of the world.
Ironically the hearings collapsed when the NCTL - which has since been replaced by the Teaching Regulation Agency - found it had not presented the whole picture of the accusations to the lawyers who were trying to defend the accused teachers' reputations and careers.
Mr Alam said he was depicted as an "anti-state enemy" during the affair and questioned what the inquiry achieved.
"It was completely unnecessary. Why did they put a banning order on me? I was a volunteer while I was a governor. No school had to appoint me," Mr Alam added.
He said GCSE marks at the schools where he was chair of governors had declined since the affair.
Mr Alam - who was a former Ofsted inspector, governance trainer for Birmingham City Council and school consultant - said the process had damaged his reputation, career and friendships.
"It was stressful. It's hit me economically. I can't do what I love doing. I spent 20 years building my skills.
"Within the Muslim community, people who've always known me, regard me as a hero overall.
"But from people within the education fraternity, I'm cut off. People don't want to associate with me because they think it will harm their careers."
The DfE said Mr Alam had been identified in Mr Clarke's report as the "central figure in these cases".
It said: "We have taken strong action and continue to act to prevent extremism from gaining a foothold in our schools - in Birmingham and across the country."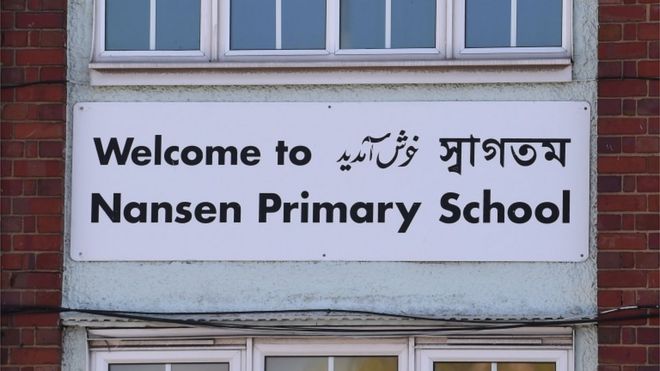 Nansen Primary School in Birmingham was one of 21 schools inspected by Ofsted following the "Trojan Horse" allegations
The five former senior teachers who had been grouped together in one hearing before the process was halted were:
Razwan Faraz, former deputy head teacher at Nansen Primary
Arshad Hussain, assistant head teacher at Park View
Hardeep Saini, former head teacher at Golden Hillock
Lindsey Clark, executive head teacher at Park View
Monzoor Hussain, former head teacher at Park View
Those five had all worked for the former Park View Educational Trust, which oversaw the running of several schools in Birmingham implicated in the original allegations, including Park View, Golden Hillock and Nansen Primary.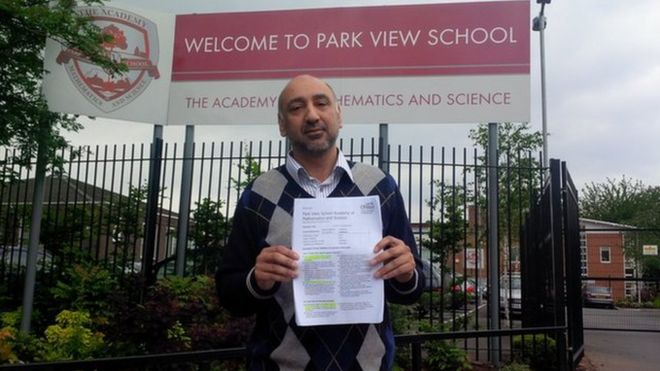 Arshad Malik said Park View went from "underachieving" to "overachieving" in the decade before the "Trojan Horse" affair
Lifetime bans handed to two other Park View teachers, Inamulhaq Anwar and Akeel Ahmed, had earlier been quashed.
Mr Alam had been chair of governors at that trust but was banned from involvement in schools, which was upheld on appeal in April 2018.
The tribunal then concluded "the Appellant [Mr Alam]... took no adequate steps to ensure that children were kept safe from extremist views".
Arshad Malik, who decided not to move his then 14-year-old son Imran from Park View to a different school when the affair began, said the school's staff had "been decimated" after "teachers left or were 'forced to leave' and new teachers had not wanted to come".
He said he had to "supplement" Imran's education by helping him at home himself and he believed there was a lot of "mistrust" in communities since.
Former acting head teacher of Oldknow Academy in Small Heath, Mr Akbar, was banned from teaching in all schools indefinitely after being accused of trying to "eliminate" the celebration of Christmas in school and "undermining tolerance" of other beliefs.
Sarah Hewitt-Clarkson, head teacher of Anderton Park Primary School in Sparkhill, said some of the legacy of the inquiry was healthy in prompting schools to teach more about the equality of the sexes, British values and law.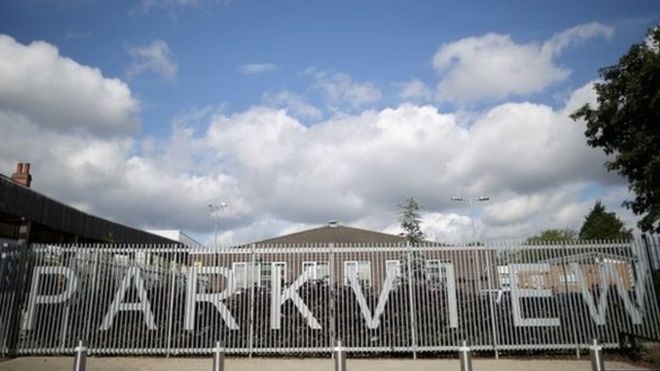 Park View was later renamed Rockwood Academy
The saga centred on the emergence of an anonymous letter in 2014giving details of an alleged plot to oust some Birmingham head teachers and make their schools adhere to more conservative Islamic principles.
It stated parents could be encouraged to turn against the leadership team if they were told the school was "corrupting their children with sex education, teaching about homosexuals, making their children pray Christian prayers and [carrying out] mixed swimming and sport".
There were five subsequent inquires. The Clarke report found no evidence of extremism but said "there are a number of people in a position of influence who either espouse, or sympathise with or fail to challenge extremist views".
The NCTL later pursued disciplinary hearings against 14 teachers, accusing them of professional misconduct.
Park View was later renamed Rockwood Academy, while Golden Hillock became Ark Boulton Academy.
Source: BBC News