Swansea University suspends vice-chancellor
Posted on: 2018-11-26 14:30:00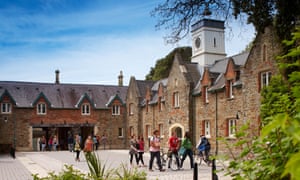 Swansea University's Singleton campus. Photograph: Swansea University
Swansea University has suspended its vice-chancellor, officials have confirmed.
Prof Richard B Davies, who has held the role at the university since 2003, stood aside for an internal investigation to be carried out.
The dean of the school of management, Prof Marc Clement, has also been suspended.
Davies, who was brought up in west Wales, studied engineering at Cambridge before receiving a PhD from the University of Bristol.
Llanelli-born Clement has held several senior academic positions and was appointed dean of the school of management in 2015.
A university spokeswoman said: "We can confirm that the vice-chancellor, Professor Richard B Davies, and Professor Marc Clement have been suspended, pending the outcome of on an internal investigation.
"We are not making any further comment at this stage."
Source: The Guardian