Southampton students' union president apologises after vowing to paint over First World War mural
Posted on: 2018-10-26 09:00:00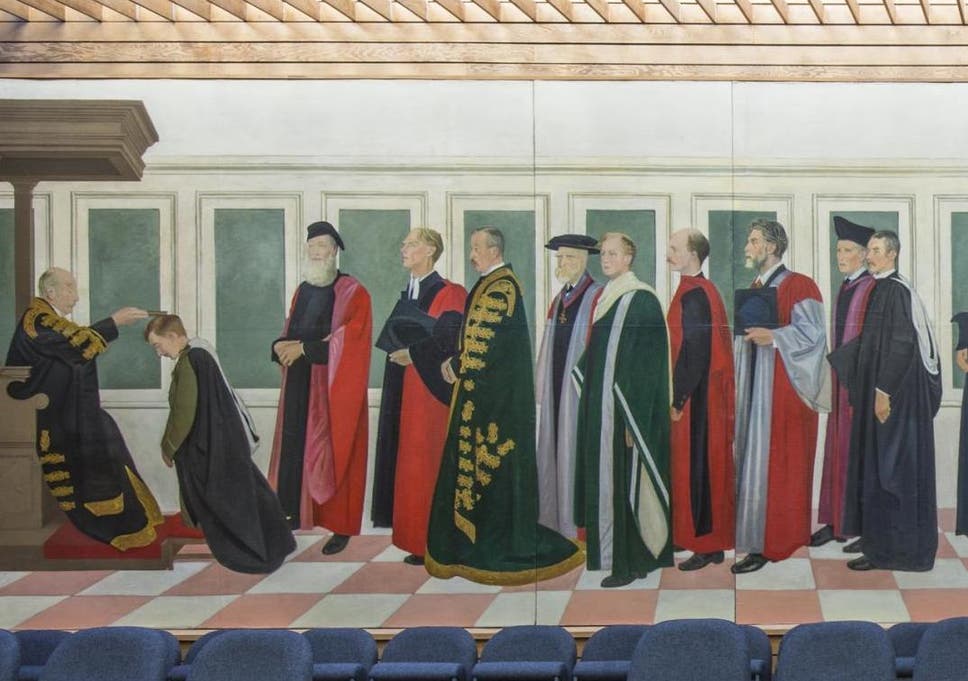 The Rothenstein Mural serves as a memorial to all members of British universities who served in the Great War. ( University of Southampton )
A students' union president has been forced to apologise after she threatened to paint over a university mural dedicated to First World War heroes.

The president of the University of Southampton's Students' Union has sparked outrage online after tweeting that she would take down, or paint over, the "mural of white men".
Emily Dawes faced a backlash for her comments on the artwork at the university – which shows a young soldier being given a degree – and she has now apologised for the upset caused.
The original tweet said: "Mark my words – we're taking down the mural of white men in the uni Senate room, even if I have to paint over it myself."
More than 1,000 people have signed a petitioncalling on Ms Dawes to stand down over her post on Twitter, with some critics describing her comments as "disrespectful" and "ignorant".
The mural was painted by Sir William Rothenstein in 1916 as a memorial to members of British universities who served in the war and was presented to Southampton in 1959 by the artist's son.
Ms Dawes has now apologised for the offence caused saying she "never meant the disrespect to anyone past, present and future" and she had no intention for the tweet to be taken "literally".
She added: "My intention was to promote strong, female leadership and not the eradication and disrespect of history.
"I do not believe that to make progress in the future, we should look to erase the past."
A university spokesperson said: "The comments made by the students' union president regarding the Rothenstein Mural are not shared by the University of Southampton and do not represent the views of the university community.
"We are very proud to display the mural, painted in 1916, which serves as a memorial to all members of British universities who served in the Great War."
A statement from the students' union said: "We apologise for the recent statement from our president regarding the Rothenstein Mural and any upset this may have caused. This is a personal view and not that of the union.
"We do not believe the statement was said to cause upset or disrespect to anyone and does not follow our mission or values."
It comes after Cambridge University students received death threats this month after a proposal to encourage more students to commemorate British war veterans on Remembrance Day was rejected.
And in the summer, Manchester Students' Union came under fire when staff painted over Rudyard Kipling's 'If' in a protest against the "racist" poet.
Eleanor Busby, Education Correspondent
Source: Independent