Small Yorkshire school helping some of most needy pupils faces axe
Posted on: 2018-11-13 16:30:00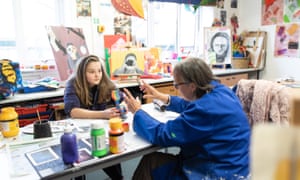 Helena Kitchingman, a pupil at the Grove Academy, Harrogate, in an art class with teacher Kate Kersey. The future of the school, a pupil referral unit, hangs in the balance due to funding cuts. Photograph: Joel Goodman for the Guardian
A tiny school with only 31 pupils, which has turned around the fortunes of some of the most challenging and vulnerable pupils in North Yorkshire, is facing closure.

The Grove Academy, in Harrogate, a pupil referral unit for mainly excluded pupils, was rated outstanding by Ofsted in 2015, but it has become a casualty of the education funding cuts affecting children across the UK.
The loss of the secondary school, whichwas built on the site of a 1960s nuclear bunker beneath former council offices in Harrogate, will affect some of the most needy children in society, its supporters say. They believe it cannot easily be replaced.
The Grove Academy is one of seven such schools in North Yorkshire whose future hangs in the balance as pupil referral units become the latest target for funding cuts.
The school's job is to take in the children that other schools cannot teach – girls and boys with complex needs who have been excluded for "bad behaviour" or who have medical problems, often mental health issues.
If proposals to cut the school's funding by 83% are approved, its work will come to an end in 2019.
John Warren, the school's principal, said: "I fear that if the Grove was forced to close the life chances of our vulnerable young people would be blighted. Moreover, the community will pay a higher cost in picking up the pieces of another damaged person who wasn't helped early enough when there was a chance to turn their life around."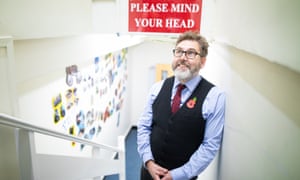 Principal of Grove Academy, John Warren, standing on the stairs to the school's basement, during a break. Photograph: Joel Goodman for the Guardian
The Grove is situated in a modest building just outside the centre of Harrogate. In some ways, it resembles a regular school: it has a small library, the walls are covered with posters and photographs of pupils on school trips and there is a tuck shop at break time. It has, however, only 31 children on the roll. There is no playground so the pupils relax and play cards in the converted bunker during breaks. Doors are unlocked and carefully locked again for security.
In the morning, pupils with behavioural issues attend, most being from disadvantaged backgrounds and previously excluded for aggression, drug offences and disruptive behaviour. This may be Harrogate, famous for its spa water and Bettys tea rooms, but it has its share of drugs, poverty and deprivation.
At least one Grove pupil has fallen victim to the "county lines" drug trade (criminal drugs distribution from big cities to smaller towns) and become involved with a gang from Leeds. Staff are currently worried about a couple of girls who regularly disappear at the weekend and make their way to the city to take drugs. Colette Munro, the education welfare officer and safeguarding lead, said one girl "is so vulnerable but doesn't realise it".
Pupils with medical needs attend the school in the afternoon. Many are from wealthier families and mental health issues including severe anxiety are among the conditions they experience. Both pupil groups benefit from the high staff-pupil ratio (4:1 though often classes are 1:1 because of disruptive behaviour and peer conflict), the nurturing environment, and a broad personalised curriculum with lots of outdoor pursuits.
The Grove is one of only 10 PRUs nationally to have achieved three Ofsted outstanding judgments in a row and its staff, pupils and their parents are horrified that it might be lost.
"I think it's barbaric that people would do this," said Zoe Pickering, 17, who attended the Grove for 18 months as a medical pupil. Mainstream school had become unbearably stressful for her and she described going to the Grove as finding rest after war. "They are just [closing] it to save money. They've not bothered to find out how important it is and how many lives will be affected by it."
Amy Collins, 17, spent two years at the Grove and said it saved her. "I was involved with drugs, crime and violence; the police were constantly knocking at my door and I was so close to being put into a youth offender [institution]. Since going to the Grove Academy I achieved seven GCSEs, all A* to C, and I now run my own business. As a former student, I know that the Grove Academy is absolutely vital to all of us young people who struggle to cope in mainstream schools."
North Yorkshire county council wants to cut £1.5m from its pupil referral services from April 2019 and devolve responsibility to headteachers to develop and seek out alternative provision in the county. PRS staff say the impact will be catastrophic and they fear pupils will end up on the streets, vulnerable to exploitation, grooming and county lines.
The cuts are being made against a backdrop of rising exclusions in North Yorkshire, as elsewhere. The county council wants fewer children to be permanently excluded but critics of the council's proposals say mainstream schools, with their diminishing budgets and narrowly academic curriculum, do not have the resources to support the most challenging youngsters.
Paul Brockwell, the headteacher of St John Fisher Catholic high school in Harrogate, is concerned that if the Grove and other PRUs in North Yorkshire disappear there will be a loss of expertise. "There needs to be provision for students who for whatever reason are unable to access a curriculum within the mainstream," he said.
Marlene McMillan, whose granddaughter went to the Grove after being excluded, said the girl's life had been turned around. She was now studying for A-levels and hoped to take law at university. "Mainstream school does not work for vulnerable and disadvantaged children like my granddaughter," she said. "These schools do not have the resources or expertise to support pupils in the mainstream system."
Like the cuts to special education needs (SEN) services, which parents in North Yorkshire and across the UK have been fighting in the courts, these cuts to pupil referral services are aimed at reducing overspends by local authorities whose budgets have been decimated by years of austerity funding cuts from government. North Yorkshire's high-needs budget, which covers SEN and pupil referral services, is already £5.5m in deficit. As demand for SEN services grows, in line with national trends, that overspend will increase to £13m by 2020, unless the council makes cuts.
Jane le Sage, North Yorkshire county council's assistant director for inclusion, said: "Without any doubt, if these proposals do go through there's a significant impact on the budget of some of the PRS."
She said the council would still be investing millions of pounds in supporting excluded children and that transitional funding would be available to help with the process of change. "What we're trying to do is to manage two areas, making sure we meet our duty in terms of supporting children and young people, but also balancing our responsibility for the public purse."
A Department for Education spokesperson said North Yorkshire county council received £47.7m in high-needs funding this year: "We recognise that local authorities are facing cost pressures on high needs, and that is why we are providing support to help them get the most out of their resources."
Sally Weale Education Correspondent
Source: The Guardian