Scouts to recruit children aged four and five in trial scheme
Posted on: 2018-11-14 00:00:00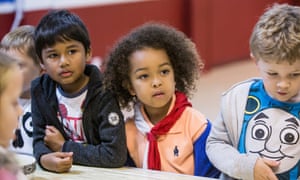 The Scouts last lowered their age limit 32 years ago when children aged six to eight were admitted. Photograph: Charlie Edwards Photography/Scouts.org
The scouting movement is getting younger with plans to recruit four- and five-year-olds as part of a pilot scheme targeting disadvantaged children.
The aim is to build emotional resilience and encourage independence among children from hard-to-reach families. By developing life skills at the earliest possible age, the Scouts hope to close the opportunity gap between poorer children and their wealthier peers.
Three approaches are being trialled in 20 groups involving a total of nearly 300 children and their families over 12 months. If successful, the most effective model will be rolled out across the UK in 2020.
The Scouts last lowered their age limit 32 years ago when children aged six to eight were admitted for the first time as Beaver scouts, a junior movement that grew to 100,000 children in five years.
Today's new mini-Scouts – yet to be formally named – are some way from Robert Baden-Powell's original vision, trialled in 1907 on Brownsea Island in Dorset, where 21 adolescents set up camp and learned about woodcraft, boating, life-saving, patriotism and chivalry.
But the pre-school scheme will be informed by the same spirit, according to the chief Scout, Bear Grylls. "We know from research that girls' and boys' skills, values and attitudes are formed in their early years of life. We believe that by offering early years provision we can ensure we have an even more positive impact on young people's lives. And that's what scouting is about," he said.
"This pilot will help us find a truly effective formula for young people aged four and five to benefit from. It's about giving them adventure and life skills that they can develop through scouting."
The scheme is being funded by the Department for Education, which has given the Scouts £640,000 as part of an £18m investment to improve disadvantaged children's early communications skills.
The three potential options include a family scouting model with hands-on involvement from parents and carers, similar to the American and Denmark scouting model; an early years unit attached to an existing Scout group, similar to the Squirrels programme in Northern Ireland; and a partnership scheme delivered in different community settings to reach children from specific groups, such as looked-after children.
There has been a surge in membership in recent years and the Scouts describes itself as the largest co-educational youth movement in the UK, with 638,000 members, of which 475,000 are aged six to 24 and 163,000 are adult volunteers.
Sally Weale Education Correspondent
Source: The Guardian