Schools can have anything... except more money
Posted on: 2018-05-08 08:00:00
Responses from 1,500 head teachers show a majority of schools in the survey face staffing cuts and bigger class sizes.
In a high proportion of the schools, pupil premium money, intended as extra funding for disadvantaged pupils, is now being used to "prop up core budgets" they say.
This is the latest lobbying by the Worth Less? campaign, organised by head teachers, which has sent millions of letters to parents about budget shortages.
No bail-outs
But will such warnings make any difference?
There seem to be the clearest messages so far that the government is not going to loosen the purse-strings.
Although the protests over funding are continuing, the prospects of the Treasury re-considering school funding seem to have become remote.
Public pronouncements and private conversations indicate that the government is going to tough it out.
In a speech on Friday to the National Association of Head Teachers, the Education Secretary Damian Hinds arrived carrying a small forest of olive branches.
He promised sabbaticals to stop teachers burning out, there would be no more forcing good schools to become academies and there was a public recognition of the struggles schools faced with their budgets.
But when Mr Hinds was pressed on the funding gap he pointed towards the next spending review.
There was no suggestion of the type of short-term extra cash that schools have been demanding.
Teachers' conferences can be frosty places for education secretaries - but Mr Hinds went down well, hitting the right notes and drawing applause.
Perhaps they liked this more straightforward approach.
'Real cost pressures'
Previous education secretaries have either denied there was a funding problem or else never quite closed the door to a bail-out.
It was a long running tease, with school leaders not sure if they should go all-guns blazing for more cash, or keep waiting for the government to deliver.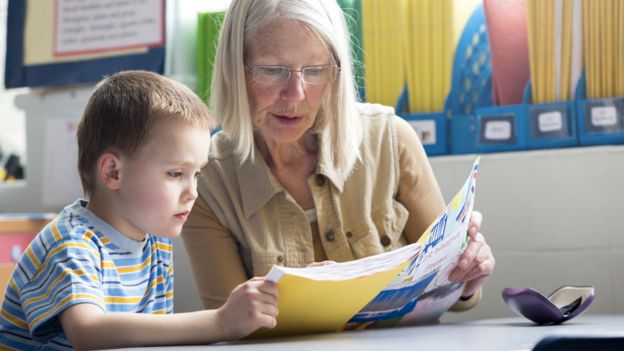 Mr Hinds told them there have been "real cost pressures on schools" and "it is challenging for schools making the numbers add up".
But there were no indications of schools receiving more.
Justine Greening, the previous education secretary, had reshuffled her department's budget to find an extra £1.3bn for frontline spending on schools.
But the funding campaigners - teachers' unions, heads' organisations and parent groups - saw this as an interim measure, rather than a final decision on increasing budgets.
It now seems as though any extra cash for schools will depend on the outcome of next year's review of spending.
More or less?
The Treasury is said to believe that schools haven't had a bad deal and will need to be persuaded of the need for higher funding.
Between 2010 and 2015, school budgets were protected from the austerity measures and the re-allocation of £1.3bn to schools in 2017 will mean no real-term cuts for 2018-20.
But the Institute for Fiscal Studies says it will have meant a 4.6% real-terms fall in school budgets between 2015 and 2020.
The two sides of the argument have swung back and forth - the government saying it was putting in record levels of funding and schools saying that it wasn't enough to keep up with rising demands.
This now seems to have changed. The education secretary is acknowledging that some schools are struggling, but at the same time seems to be closing the door on a short-term response.
So where does that leave schools and their vocal attempts to persuade the public and ministers of their urgent need for more money?
Will they think the government is calling their bluff? Will they step up their campaign, without feeling they have to keep onside with the government?
Jules White, a head teacher in West Sussex and organiser of the Worth Less? campaign, says the latest survey shows the "stark reality as to how bad things are" and that schools are "stating unequivocally that their budgets remain in crisis".
The question over funding has been rumbling for the past couple of years. But schools might not like the answer.
Source BBC