Rented properties face clampdown – but tiny flats escape ban
Posted on: 2018-09-29 08:30:00
A tougher licensing regime for private rented homes comes into force on Monday, along with a new minimum size for bedrooms – just days after it emerged that 35 people had been found living in one London semi.
The government measures are designed to crack down on bad practices and generally make life better for renters. They come as thousands of second-year university students begin renting their first place with a group of friends.
But while the new regime gives councils more powers to swoop on landlords who are profiting from overcrowded, squalid and sometimes dangerous homes, it appears the shakeup will not stop tenants being squeezed into "rabbit hutch-sized" living spaces.
In High Barnet, north London, a row has been raging over a developer's plans to convert a 19th century former corn store and warehouse into tiny bedsits. One resident claimed that to approve the proposal would mean "a return to the slum living conditions of the Victorian age," while another declared: "They would not allow animals to live like this."
The new rules relate to so-called "houses in multiple occupation" (HMOs), of which there are about 500,000 in England, according to official figures. HMOs typically cater for tenants who can't afford to rent a flat or house, or are on a tight budget – which includes students, those on low incomes, migrant workers and vulnerable people.
In the case of some larger HMOs, landlords need to get a licence from the council. This involves checks to make sure landlords or managers are "fit and proper", while their properties must meet certain standards. There is usually a fee to pay (often £1,000-plus), and details of all properties and licence-holders are listed on a public register.
All the evidence suggests this mandatory licensing scheme has succeeded in driving up standards. But the trouble is, up until now it has only applied to a fraction of HMOs: the 60,000 bigger ones that are three or more storeys high and are occupied by five or more people from two or more households.
Perhaps not surprisingly, those rules have resulted in a surge in the number of properties with fewer than three storeys being used as HMOs. Some are owned by rogue landlords who are keen to stuff as many people into a house as possible, and can operate under the radar because these are not licensed.
To get around this, the rules are being changed so that from 1 October, flats and one- and two-storey houses will be brought within the mandatory licensing regime (though the "five or more people from two or more households" rule will still apply). This means that about 160,000 extra properties will be better policed – bringing the total covered by mandatory HMO licensing to about 220,000.
At the same time, new minimum size requirements for bedrooms in HMOs will take effect. Rooms used for sleeping by one adult will have to be no smaller than 6.51 sq metres, and those for two adults will have to be no smaller than 10.22 sq metres.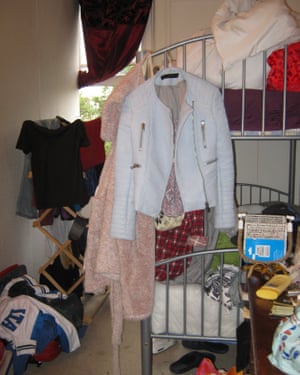 The house in Islington in which council officials found 35 people living. Photograph: Islington Council
A recent case in Islington, north London, highlights how important it is for properties to be properly monitored. Earlier this month it emerged that council officers who went to a converted semi found 35 people living there. Many of the bedrooms had bunk beds, with up to five or six people sleeping in some rooms. This summer the landlord was found guilty of 15 offences.
The government says the mandatory room sizes will be the statutory minimum – councils will be free to set their own standards. So, for example, in Barnet, the minimum size of a single HMO room occupied by one person is 10 sq metres (space taken up by any toilet or shower can't be included). This is the minimum that applies where the kitchen is in a separate room.
This means the nine HMO bedsits plus two small communal kitchens planned for the building in High Barnet that have upset some residents would appear to meet the standards – even though the smallest room would be just 10.4 sq metres, excluding the bathroom. That's a room just a fraction bigger than 3.4m long by 3m wide.
One resident said: "These 'flats' will be barely no more size [sic] than a prison cell." Another said: "To be compared to a rabbit hutch is an understatement, as I have a rabbit and it lives in a bigger area."
The government's own "nationally described space standard" states that the minimum floor area for a new one-bedroom one-person home (including conversions) is 37 sq metres.
Guardian Money spoke to the developer's agent, Stuart Cunliffe, and he said: "The plans meet the current standards." Documents supporting the application state that Barnet council's housing arm has a list of 85 people aged under 35 seeking HMO accommodation.
Intriguingly, a few hours after speaking to Money, Cunliffe rang to say the developer had decided to withdraw the application because the council had asked for extra information. He added: "We will have a look at the comments and see what the next step is."
So this may, or may not, be the end of the road for the Barnet developer's current proposals.
Rupert Jones
Source: The Guardian