Pupils could be taught in larger classes and more temporary buildings amid 'emergency' shortfall of school places
Posted on: 2018-08-31 00:00:00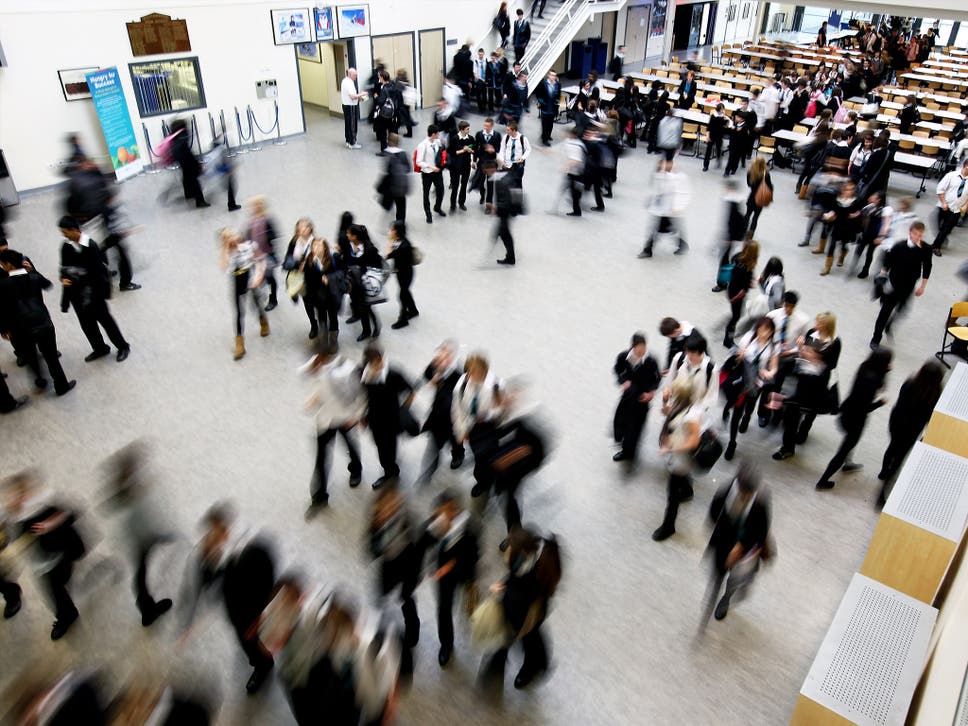 In England 71 councils may not be able to meet the need for 134,000 admissions by 2023, according to the Local Government Association
More pupils could be taught in larger classes and temporary buildings in the wake of a secondary-school places "emergency" which council leaders warn could leave thousands in limbo.
Over half of councils in England are at risk of not keeping up with demand over the next five years – leaving nearly 134,000 children with no school places, the Local Government Association (LGA) says.
Headteachers have warned that children could be forced to travel long distances to school, or could be taught in temporary classrooms or larger classes, if action is not taken urgently.
As children prepare to go back to school, council leaders have renewed calls for greater powers – to allow them to open new schools and direct academies to expand – to cope with a population bulge moving into secondary.
In England, 71 councils (52 per cent) may not be able to meet the need for 133,926 secondary school places by 2023/24, according to the LGA analysis of government figures.
"The reality is we face an emergency in secondary school places where the number of pupils is growing at a far faster rate than the number of places available," Anntoinette Bramble, chair of the LGA's children and young people board, has warned.
Paul Whiteman, general secretary of the National Association of Head Teachers (NAHT), said: "The lack of school places is an issue which isn't going away. The massive increase in pupil numbers over the next few years, particularly at secondary age, will only make it harder."
Local authorities are responsible for ensuring there are enough school places, but they cannot force academies – which account for two-thirds of secondary schools – to expand. And since 2010, all newly built schools must be opened as free schools – which are run by the government.
"In an increasingly fragmented school system we lack a co-ordinated approach to place planning. Instead it's haphazard; decisions are being made in isolation and new schools and new school places are not always being commissioned in the areas they are most needed," he added.
Mr Whiteman told The Independent: "The consequences for children's education and wellbeing could be negative, with potentially larger class sizes, and certainly in some parts of the country it will mean children having to travel long distances to go to secondary school, or being separated from their peers, or even siblings, forcing parents to juggle several schools."
"Some local authorities have had to consider temporary classrooms, but a lot of those accessible solutions have already been exhausted," he added.
Malcolm Trobe, deputy general secretary of the Association of School and College Leaders (ASCL), said: "It is a realistic fear that there will be youngsters without places.
"One way of dealing with the pressure is to get secondary schools to expand. If you are full, then you need to increase accommodation. In many cases this will mean temporary classrooms."
But Mr Trobe warned that many schools will not have the space and staff to take on extra pupils if requests are last-minute.
"We have known this bulge has been coming for some time so there is no excuse for turning around and saying 'Oh dear we have got more youngsters coming into our secondary school'. Appropriate action should have been taken to put places in," he added.
Justine Roberts, founder and chief executive of Mumsnet, said: "For parents who find themselves in this situation it's incredibly stressful – not to mention the impact on the children themselves.
"Access to education is a fundamental right and it's crucial that there are sufficient places for all the children who need them."
Unless more secondary school places are created, LGA analysis says 13 local authorities will face a shortfall in 2019/20, rising to 25 councils in 2020/21, 46 in 2021/22 and 54 in 2022/23.
In May, the government controversially announced plans to hand over £50m to existing grammar schools to help create thousands of new places.
They also announced a new wave of free school applications – building on the 212,000 places created by free schools since 2010.
But shadow education secretary Angela Rayner accused ministers of "pursing their own vanity projects, such as their pointless grammar school expansion, rather than following the evidence on what's best for pupils."
"It's unacceptable that large numbers of children and their families could face the anxiety of not securing a secondary school place," she said.
Nansi Ellis, assistant general secretary of the National Education Union (NEU), added that the introduction of free schools, expansion of academies and grammar schools had "undermined" the ability of local authorities to carry out the planning and provision of school places.
She added: "We face a secondary-school places emergency unless the government sees sense and gives councils the powers to open schools or direct academies and free schools to expand."
But Mark Lehain, interim director for the New Schools Network (NSN), the charity working with the government to open new free schools, said: "We know there is rising demand for new school places across the country.
"The most recent pupil projection figures released by the Department for Education predict that the secondary school population will rise by more than 400,000 pupils by 2027.
"Free schools have already played a huge role in meeting this need, and will continue to do so by creating high-quality school places across the country."
School Standards Minister Nick Gibb said: "This government has driven the largest creation in school places in two generations and by 2020, there will be one million more new places across the school system than there were in 2010.
"We are spending £23bn by 2021 to ensure every child has access to a good school place. And since 2010, 43,000 fewer pupils are being taught in overcrowded schools."
Source: Independent