Prominent black Cambridge University graduates celebrated
Posted on: 2018-09-24 23:00:00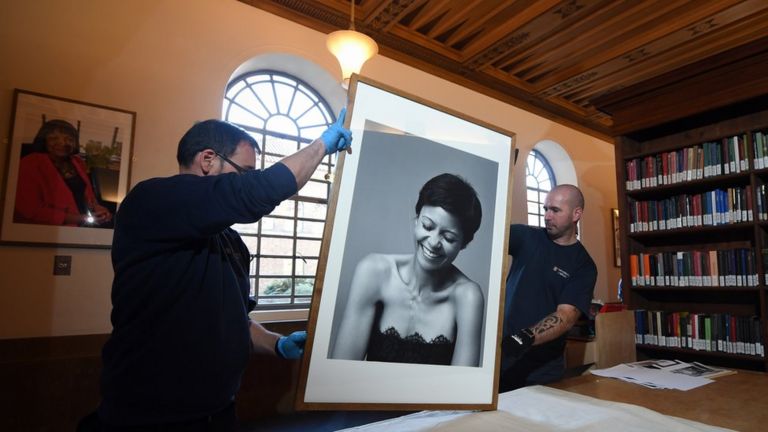 A portrait of actress Thandie Newton, part of the new exhibition 'Black Cantabs: History Makers'
Fourteen portraits, along the library's Royal Corridor, feature the first black students and more well-known alumni.
The exhibition includes portraits of actor Thandie Newton and author Zadie Smith and opens on 1 October.
The university was criticised in June after an investigation revealed comparatively low numbers of black undergraduates.
The exhibition was put together by the Black Cantabs Research Society, a student group set up in 2015 to "create a link between past black scholars, present students, and prospective students."
It opens on the first day of the UK's Black History Month.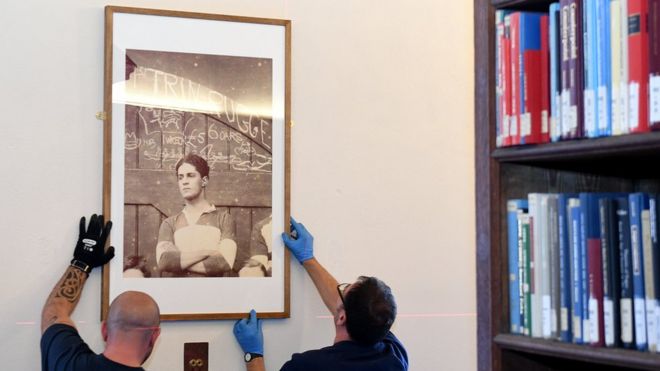 Staff hang a portrait of the British Army's first black officer Lieutenant David Clemetson
The exhibition includes the university's first black scholar, Francis Williams, who graduated with a bachelor's degree in mathematics, Latin and literature in the 1720s.
He returned to his home in Jamaica years later and set up a free school for black children.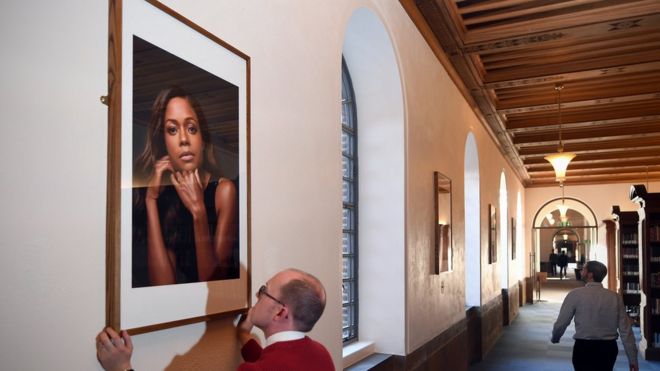 Head of exhibitions Chris Burgess adjusts a portrait of actress Naomie Harris
The university came under fire in June after a freedom of information request by the Financial Times showed some Cambridge colleges admitted no black British students between 2012 and 2016.
Of Cambridge's 29 undergraduate colleges, six admitted fewer than 10 black British or mixed-race students in that time.
The gallery includes Cambridge's first black female graduate, Gloria Carpenter, who graduated from Girton College in 1945 and went on to become a prominent social reformer, as well as actor Naomie Harris, who graduated in 1998.
Line of Duty star Ms Newton studied anthropology at Downing College and graduated in 1995.
Black Cantabs Research Society president Surer Mohamed, 24, a PhD student, said of the exhibition: "It's not to say 'look who made it', it's to say this is part of the Cambridge story."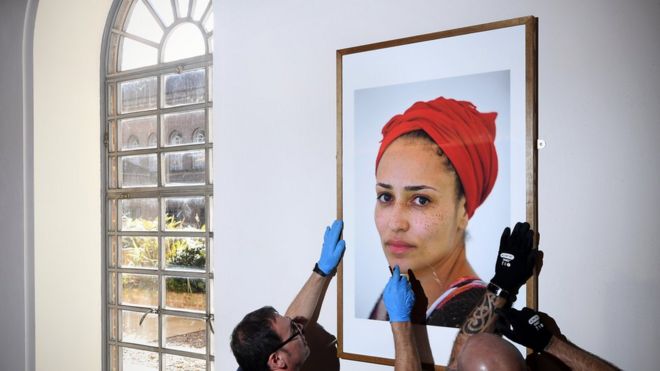 University of Cambridge Library carpenters hang a portrait of novelist Zadie Smith
In addition to portraits of Cambridge graduates, the exhibition features an image of rapper Stormzy, who last month launched scholarships to help black Cambridge University students pay their tuition fees.
The free exhibition, Black Cantabs: History Makers, runs from 1 October to 22 December.
Source: BBC News