Matthew Hedges: University staff's Dubai campus boycott
Posted on: 2018-11-23 09:00:00

The University of Birmingham has a campus in Dubai
Matthew Hedges, 31, has been convicted of spying in the United Arab Emirates (UAE) and jailed for life.

University and College Union members from Exeter and Birmingham have both agreed to suspend relationships with the country over the sentencing.
Birmingham University said Dubai opportunities for staff had always been optional.
Staff at Exeter University, where Hedges was previously an undergraduate, have passed a motion calling for the suspension of its academic relationships with the UAE.
The university runs a Dubai-based education doctorate.
At a meeting on Friday, the Exeter branch of the University and College Union (UCU) "publicly and vehemently" condemned Hedges' sentencing.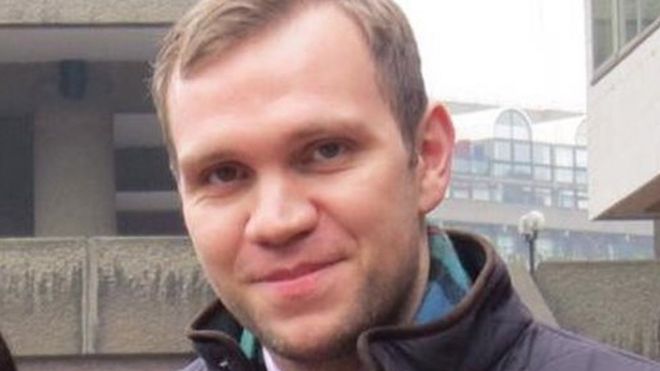 The UAE government is studying a request for clemency made by Matthew Hedges' family
University of Birmingham staff have voted to boycott its new Dubai campus which admitted students in September.
Its UCU members said they will not engage with the campus.
Durham University, where Hedges is completing his PhD, said it is also advising a moratorium on non-UAE staff and student travel to the UAE.
The University of Manchester, which has a centre in Dubai which supports access to education for certain communities, said it had no immediate plans to review its presence there.
The UCU called for members not to volunteer materials for modules on the Dubai campus, not to volunteer for internal or external exam boards for Dubai-based programmes and not to sign up for any Dubai training.
The motion was overwhelmingly backed on Thursday afternoon, the union said.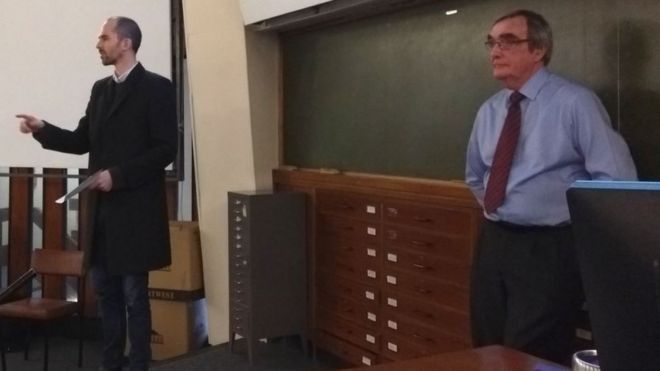 Birmingham UCU president James Brackley, left, addressed the meeting, alongside MP Roger Godsiff, right
Birmingham branch president James Brackley said all 45 union staff who had attended voted in favour of it. A second vote, which included all staff and support staff in the room, was also backed by almost 100 people, he said.
The university employs about 6,000 people.
The union said the vote was the culmination of "months of frustration at trying to get the university to take its responsibilities in the UAE seriously".
Mr Brackley said: "The case of Matthew Hedges shows quite clearly that once someone is detained in Dubai they will be entirely at the mercy of the Dubai authorities.
"This raises more serious questions about the University of Birmingham's decision to establish a Dubai campus."
The university confirmed Dubai law will apply on the new campus as it will be considered a public place.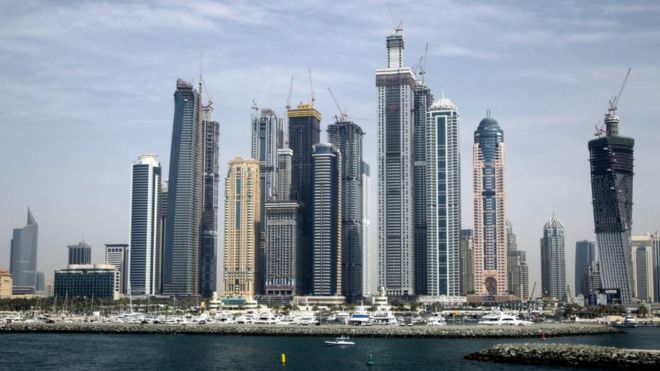 Staff claimed the University of Birmingham "failed to stand up for human rights and academic freedom"
A University of Birmingham spokesman said: "We have always respected the views of those staff who do not wish to engage with our Dubai campus and have been clear from the outset that opportunities to work in Dubai are optional for all staff and indeed in most instances staff have actively applied for these roles.
"Like every other university we have our own policies and ethical approval processes that govern the way staff and students live, travel, study and undertake research internationally."
Other universities have been asked about their connections with the UAE.
Heriot-Watt University, based in Edinburgh, said it encourages its staff to follow current advice issued by the UK Foreign and Commonwealth Office and "to respect local laws and customs at all times".
City University London and Bradford University, which also have campuses in Dubai, told BBC News they had had no issues with boycotts by staff or students.
London Business School, Middlesex and Hull International Business School have not yet responded to inquiries.
Source: BBC News