Male economics graduates from Bristol receive highest boost to earnings, data reveals
Posted on: 2018-11-27 23:00:00

University can significantly boost your earnings - but it depends on the course and institution, data shows ( Getty )
Male economics graduates from the University of Bristol – rather than Oxford or Cambridge - have the greatest earnings return over their peers who did not go to university, research reveals.
However, for women, a maths degree at the University of Oxford is the best combination – as these graduates see a return almost four times greater (270 per cent) than those who do not graduate.
The data from the government, analysed by the Institute for Fiscal Studies, shows which courses and institutions result in graduates earning more at 29 than peers who opted out of higher education.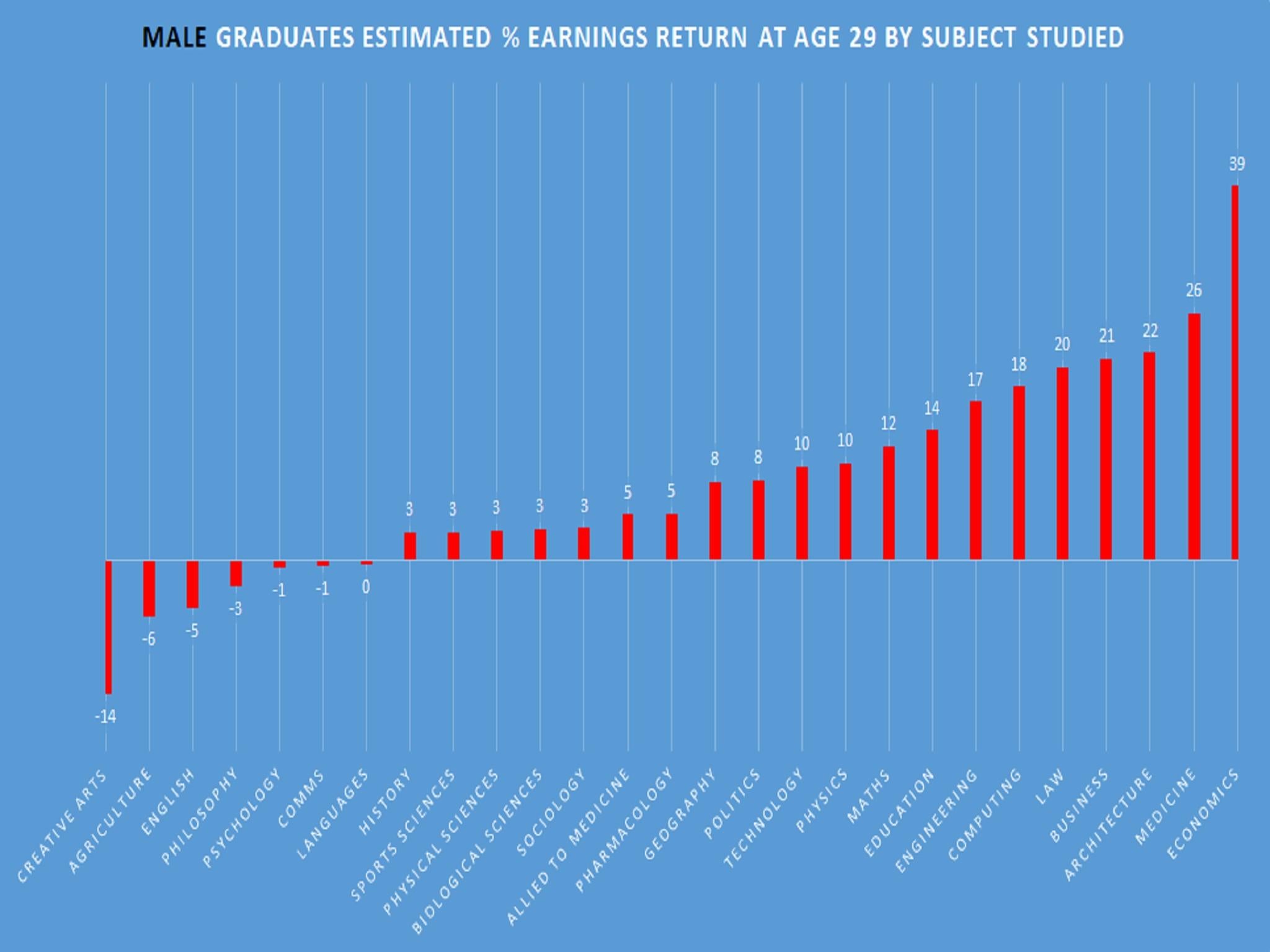 Men who studied the creative arts earn about 14 per cent less than non-graduate peers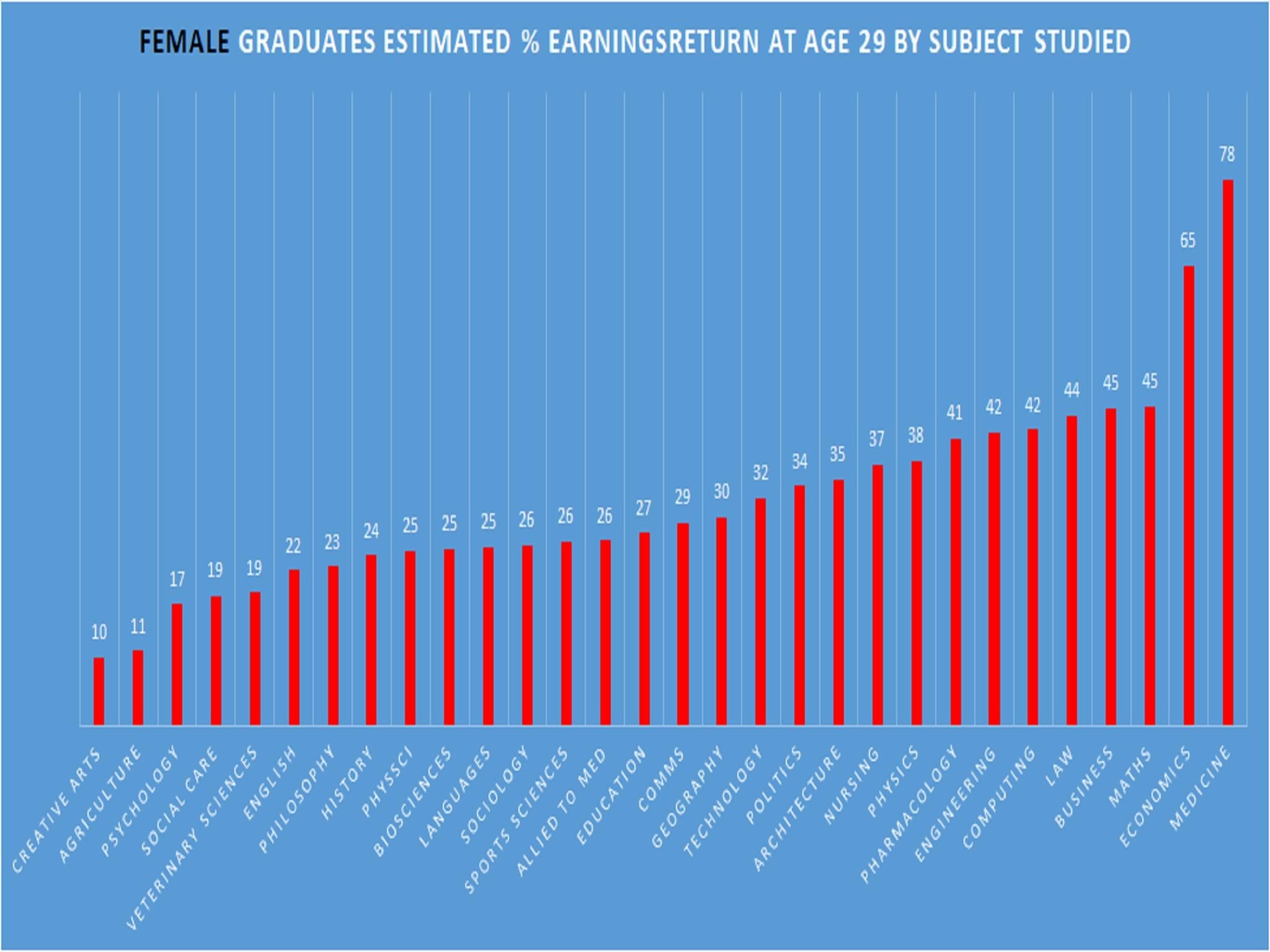 Women who studied the creative arts earn more than non-graduate peers
Studying medicine and economics at higher education significantly increases the average earnings of both female and male graduates.
However, the earnings return that graduates can yield is often dependent on where a subject is studied.
For example, studying an economics degree at Bristol would see a return of 179 per cent for men – but the same degree from Kingston would see a negative return of -8 per cent.
Here are some key findings showing the greatest and worst returns for graduates for different universities and subjects:

Institutions for men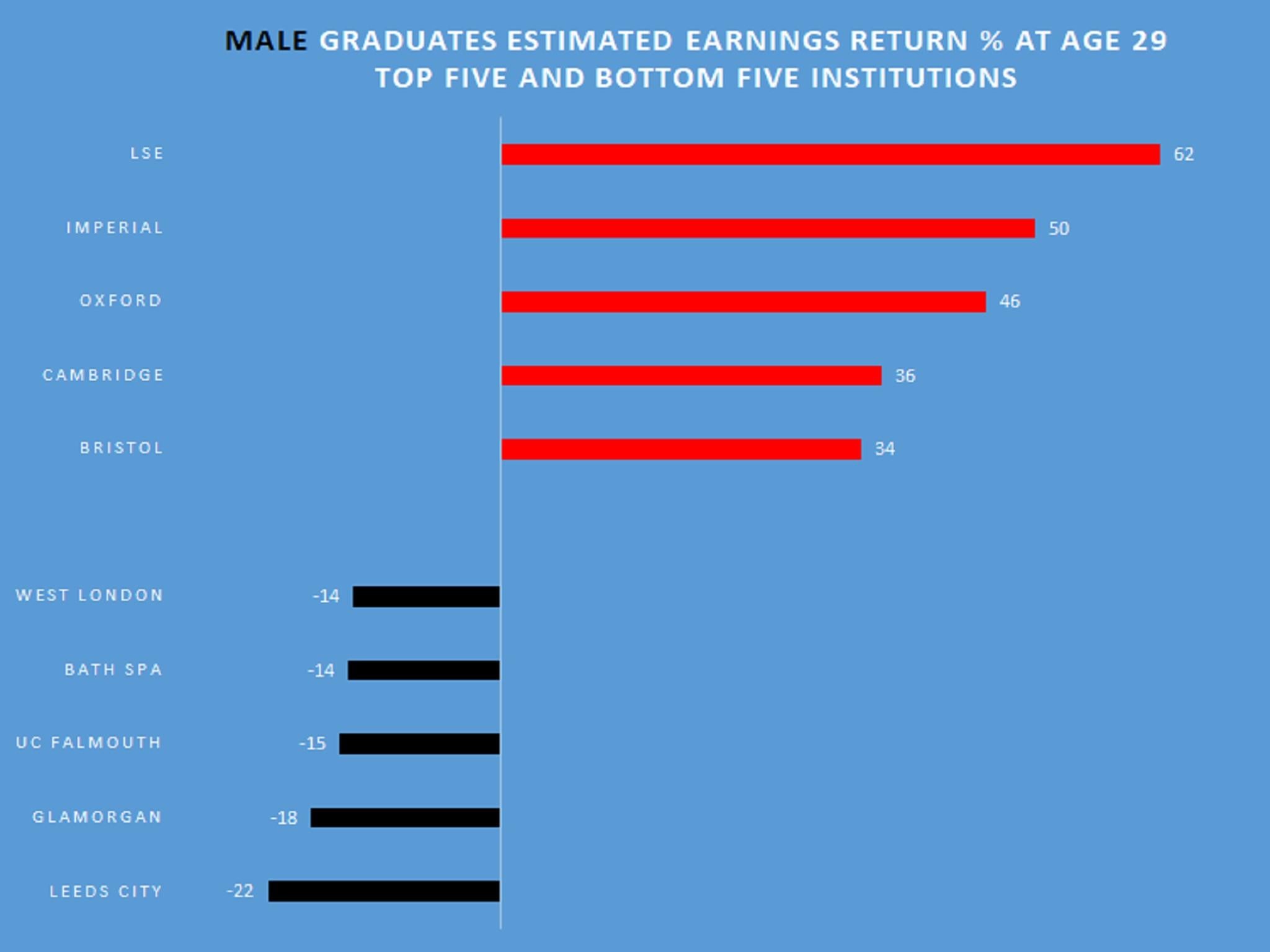 LSE is the top university for returns for male graduates, and Leeds City is at the bottom
Institutions for women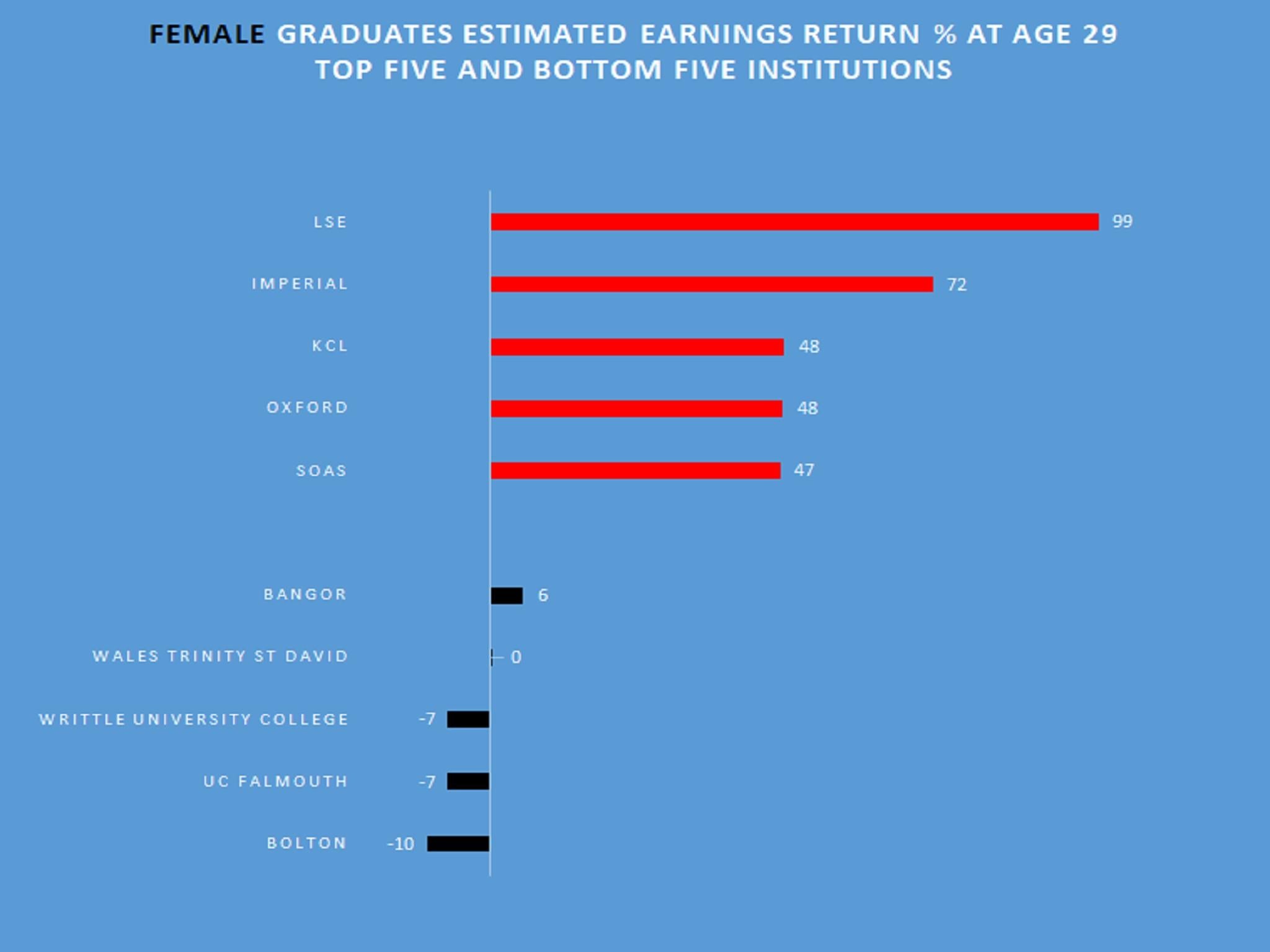 LSE is at the top for female graduates, while Bolton is at the bottom for earnings return
Courses for men
Top 5
Economics at Bristol (179%)
Physical Sciences at Oxford (164%)
Geography at LSE (141%)
Law at LSE (132%)
Economics at Cambridge (128%)
Bottom 5
Philosophy at Sussex (-73%)
English at Wolverhampton (-62%)
Languages at Oxford (-58%)
Agriculture at Newcastle (-58%)
Creative Arts at Conservatoire for Dance and Drama (-54%)
Courses for women
Top 5
Maths at Oxford (270%)
Maths at LSE (210%)
Economics at Oxford (187%)
Law at LSE (178%)
Economics at UCL (164%)
Bottom 5
Computing at Westminster (-66%)
Creative Arts at Guildhall School of Music and Drama (-59%)
Creative Arts at Cambridge (-56%)
Allied to med at Keele (53%)
Psychology at Bolton (-40%)
Economic courses for men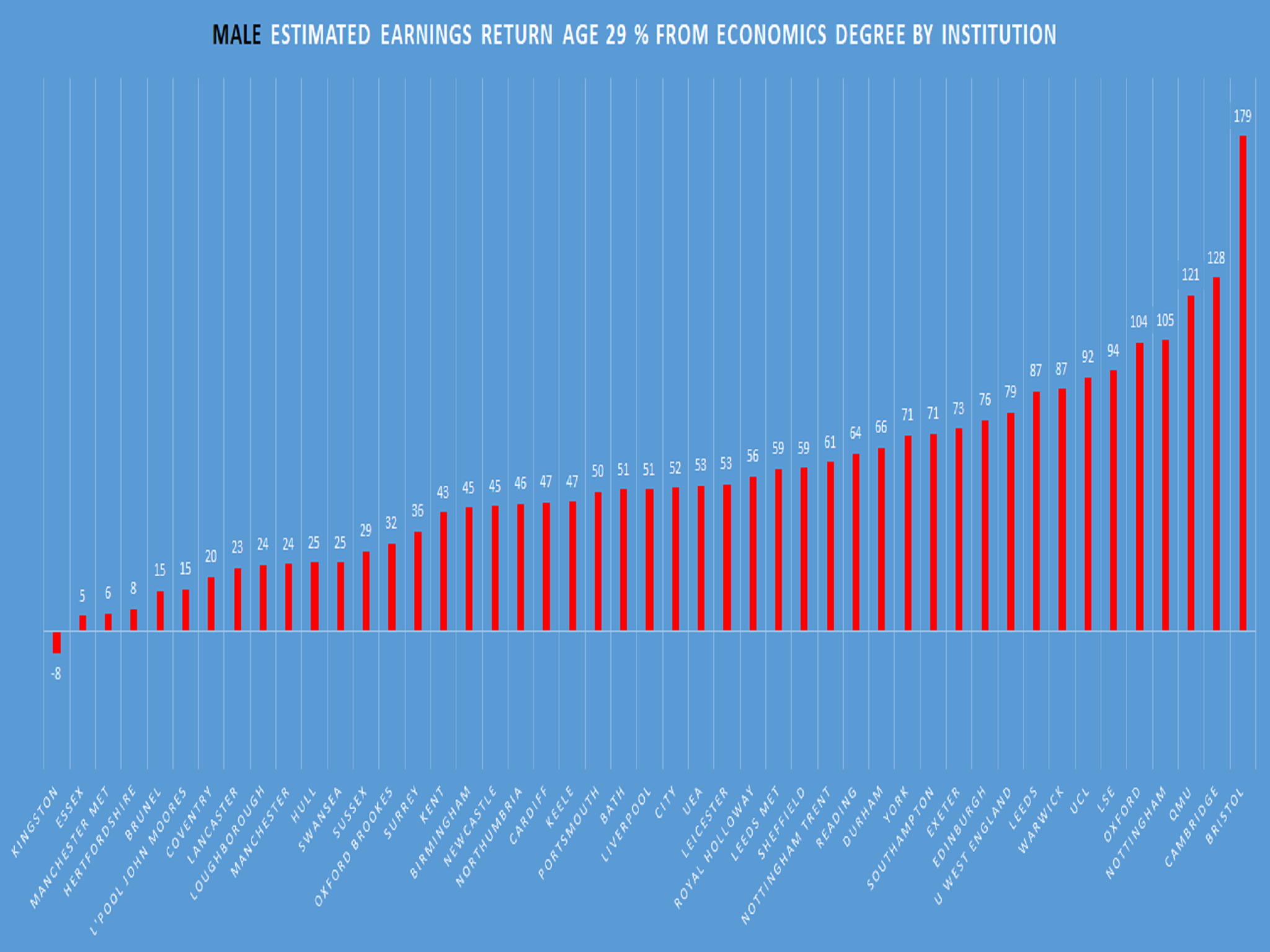 Studying an economics degree at Bristol would see a return of 179 per cent for men
Eleanor Busby, Education Correspondent
Source: Independent