'I was welling up!' Teachers report on their School of Rock students
Posted on: 2018-10-05 05:00:00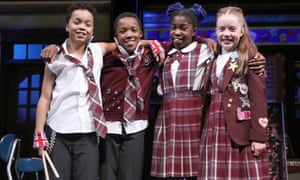 Jamal Ahmed, Samuelle John-Brown, Charis Claresta Tetteh and Amelie Green, who star in School of Rock. Photograph: Toby Mansfield
Harry Benjamin (teaches Samuelle John-Brown)
What can teachers learn from Dewey Finn? It's all about organised chaos. One hundred years ago, a classroom was 30 desks with students sitting behind them and a chalkboard in front of them. Now, the majority of school life is exactly the same. I try to change that and so does Dewey – albeit to an extreme!
I'm Samuelle's head of year. We have a sound system at school that I have blaring for upbeat vibes in PE lessons, things like house music to keep the kids going. I use AC/DC's Thunderstruck for fitness exercises: they have to do a press-up every time the band shout "thunderstruck". That's a lot of press-ups.
It's not the biggest theatre in the world, but the way the show is designed, and the intimate nature of the staging, makes you feel close to the action. Samuelle plays Mason, who becomes the band's tech and is a bit of a cheeky chap, much like Samuelle himself. I've got friends who are actors and this is their life but for these children it's different. They have a full day of being a normal kid at school before rocking up to play their characters – and play their own instruments – in the evening. It's phenomenal.
Sarah Roth (taught Amelie Green)


Amelie plays Summer, who always wants to please her teachers and others around her. At first, Dewey finds her quite irritating and a know-it-all but by the end he really warms to her.
I taught Amelie in primary school where she was a member of the choir for five years. When I first heard her sing, in year 2, I was blown away by this little person with such a powerful, beautiful voice.

Leaves you buzzing … the cast of School of Rock. Photograph: Tristram Kenton for the Guardian
We use a lot of music at school – if i'm asking the children to write a story then the right music can set the right tone. Music is also good for calming the children down and getting them in a positive mood for learning.
School of Rock shows that being a teacher is not just about regimented education. It's about the children's emotional wellbeing and their happiness, too. I loved the film version and the West End show had all the same energy. I loved the new songs. Jake Sharp, who played Dewey at the performance we saw, really steps up to the mark and is a fantastic equal to Jack Black.
Ciara Manning (taught Charis Claresta Tetteh)


When Charis sings Amazing Grace in the show it sent a shiver down my spine. The first time I heard her sing at primary school it was that song. We're a church school, so hymns are a very important part of what we do. She was a quiet girl who got on with her work and was very caring to her younger brother. She always came alive when we had school performances. None of us were surprised, but we were very proud, when she was cast as Tomika.
I always used to love hearing her sing in the nativities. She was such a natural on the stage. She'd take over and start directing people! In our school we have lots of teachers who are competitive and will encourage the children to participate. Charis performed at a local poetry competition at a young age. Sometimes schools lose that healthy competitiveness but I think it's important.
Right at the end of the show Charis saw me in the audience and gave me a cheeky wave. Afterwards I got to meet her and her mum and dad. I was Skyping her aunt with them. I was so proud. She's a normal wee girl, she's not had any specialist training or gone to acting or singing school. And there she was on the West Endstage.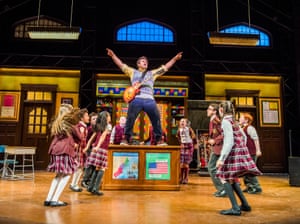 Organised chaos … School of Rock at the Gillian Lynne theatre. Photograph: Tristram Kenton for the Guardian
Jono Douthwaite (teaches Jamal Ahmed)


I was buzzing afterwards. Stick it to the Man was stuck in my head all week. Jamal plays Freddy, who is always drumming away on something, and that's Jamal in a nutshell. He wants to get involved in everything. Jamal plays hockey for the school as well. He never uses the show as an excuse to get out of anything – he finds the time to do it all and is loving the experience.
Dewey finds the balance between getting to know the kids and getting the best out of them. I teach geography and I'm not musical at all but I do love my rock. If the students have a task to do, instead of just working in silence I'll have some music on – Foo Fighters or Red Hot Chilli Peppers, something they wouldn't necessarily have heard of.
When Jamal entered the stage I was welling up. I felt quite emotional and very proud. At the end, the whole school are at the battle of the bands and Dewey announces them one by one and they do a solo. When Dewey says: "And on the drums … Jamal Ahmed as Freddy", it was awesome. We all waited at the backstage door after, but I had to join the queue while they signed autographs.
School of Rock is at the Gillian Lynne theatre, London.
Chris Wiegand
Source: The Guardian