English primary schoolchildren face times tables tests
Posted on: 2018-11-13 16:00:00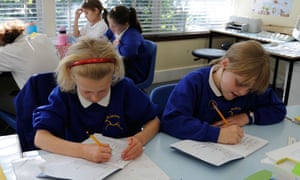 From June 2020, every state school pupil in year 4 will be quizzed on their times tables up to 12. Photograph: Alamy
Nine-year-olds across England will soon have to brush up on their times tables, as the government announced details of its compulsory multiplication check to be taken in primary schools.

From June 2020, every state school pupil in year 4 will be quizzed on their times tables up to 12, answering 25 questions in an online test using a computer or tablet, with six seconds allowed per question.
The idea behind the check – first mooted in the Conservative party's 2015 election manifesto – is to judge "the fluent recall of multiplication facts", according to the Department for Education (DfE).
The introduction of the new check means that primary school pupils will be subject to a phonics reading check in year 1, multiplication in year 4, and national tests in literacy, writing and maths in year 6. Year 2 pupils will also have compulsory national tests until 2023.
Nick Gibb, the schools minister, said the multiplication check would be simple to use for both schools and pupils.
"Leaving primary school with a fundamental grasp of basic numeracy is as important as leaving being able to read. And just as the phonics check has helped more children learn to read, this will ensure more pupils know their times tables," Gibb said.
The test has been opposed by teaching unions, who argue that times tables are already being taught and assessed throughout a pupil's time at primary school.
"An extra national test isn't going to tell teachers, parents or children anything they don't already know, and it won't improve times tables knowledge," said Paul Whiteman, the general secretary of the National Association of Head Teachers.
"In reality, this is just another test for primary schoolchildren. Calling it a check doesn't change this. Children and teachers will still have time taken away from their teaching and learning to take and administer these tests and the results will be used by Ofsted to hold schools to account."
Whiteman said the estimated £5m it will cost to hold the check could be better spent elsewhere within schools.
Mike Ellicock, chief executive of National Numeracy – a charity that campaigns to help raise low levels of numeracy in the UK – cautioned that the check could be counter-productive if it led to increased anxiety.
"Times tables have their place. It is important that everyone knows some number facts, so that we can use numbers practically in daily life," he said.
"However, our recent data shows that, compared with any other age group, immediate school leavers have the highest level of anxiety about maths. So we need to ensure that we are building confidence rather than destroying it."
The DfE said schools in England would be able to benchmark themselves against published regional and national results, while also using individual pupil scores to provide extra support to those who require it.
The 25 questions will be tilted towards the six-, seven-, eight-, nine- and 12-times tables, "because these have been determined to be the most difficult multiplication tables", according to the DfE's framework. The six-second time limit was decided after pilot tests were run in primary schools earlier this year.
Richard Adams, Education Editor
Source: The Guardian