England faces growing challenge to recruit enough highly qualified teachers, report says
Posted on: 2018-08-29 23:00:00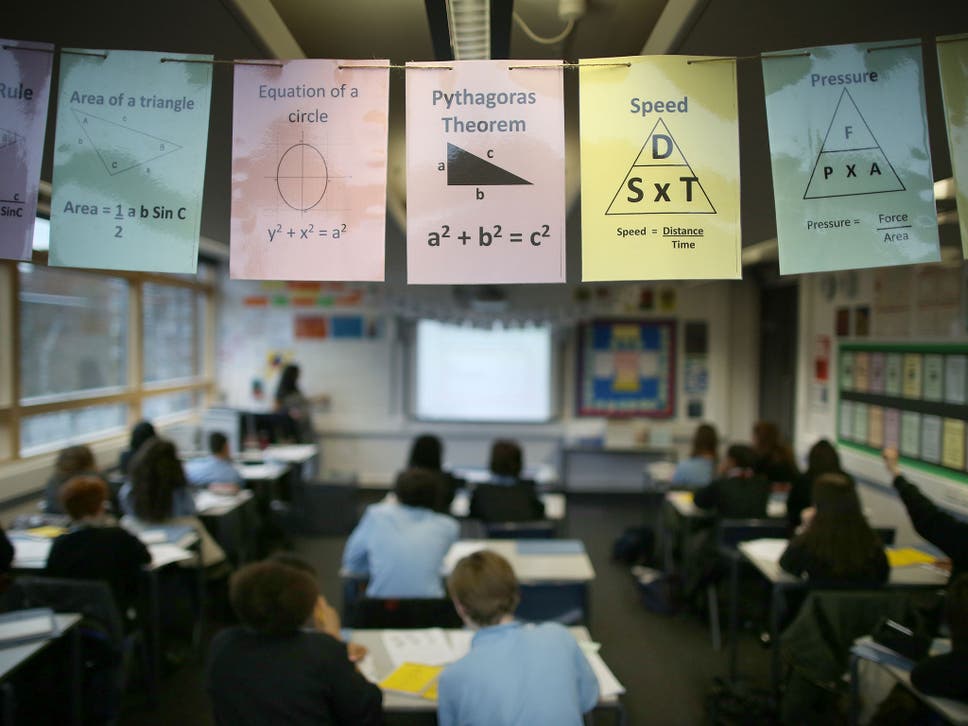 Half of teachers in shortage subjects like maths and physics have left their posts within five years
England faces a growing and significant challenge to recruit enough highly qualified teachers – especially in priority subjects and at the most disadvantaged schools, a new report warns.
Pupil-to-teacher ratios have risen and half of teachers in shortage subjects – like maths and physics – have left their posts within five years, according to think tank Education Policy Institute (EPI).
The government should introduce salary supplements in "hard-to-staff areas and subjects" to protect pupils' academic outcomes, the think tank has said.
Less than half of GCSE maths teachers have a maths or science degree, according to the report which highlights that the average pay for maths graduates is £4,000 above teachers.
And schools teaching poor children particularly struggle to attract teachers with relevant degrees in maths and science, it says.
Outside London, less than a fifth (17 per cent) of physics teachers in the most disadvantaged schools have a relevant degree versus 52 per cent in the most affluent non-London schools.
In maths, just over a third (37 per cent) have a relevant degree in disadvantaged schools, compared to 51 per cent in the most affluent.
Since 2010, pupil numbers have risen by around 10 per cent and yet teacher training applications are down by 5 per cent – and training targets have been persistently missed in maths and science.
This means that pupil-to-teacher ratios have risen from around 15.5 in 2010 to nearly 17 by 2018, the report says.
The analysis says there is strong evidence that providing salary supplements to teachers in some subjects – such as in maths and science – would alleviate shortages.
It calls on the government to consider a national salary supplement scheme, funded by the Department for Education (DfE), for hard-to-staff areas and subjects "given the scale and severity of shortages" and the known links between teacher quality and pupil outcomes.
David Laws, executive chairman of the EPI, said: "The government faces a significant challenge to recruit enough teachers – particularly in subjects such as maths and sciences. Of particular concern is the unequal access to subject-qualified teachers for more disadvantaged schools outside London.
"In maths, physics and chemistry, poor children are much more likely to be taught by teachers who don't have relevant degrees. We need to make it more attractive for some of our best qualified teachers to teach in our most challenging schools."
Luke Sibieta, report author and research fellow at the Education Policy Institute (EPI), said: "The teacher labour market is suffering from a number of severe shortages, especially with graduates, who are often able to earn much more in other roles.
"Many priority subjects such as maths and science are failing to attract enough highly qualified professionals.
"There is strong evidence that these pressures can be alleviated by targeted salary supplements. Policy-makers have begun to consider this potential solution, yet so far proposals have been far too modest, and exclude many of the areas most in need.
"The government should therefore rollout a more ambitious scheme which offers incentives to teachers in a greater number of shortage subjects, covering more areas.
"This is critical if we are to relieve some of the growing strains in the workforce, and protect pupil outcomes."
Geoff Barton, general secretary of the Association of School and College Leaders (ASCL), said: "The EPI is right that schools are facing severe difficulties in recruiting and retaining teachers, and that schools in areas of high disadvantage often experience the greatest difficulties.
"But we don't agree with its suggestion of paying salary supplements to teachers in selected subjects, such as maths and science, as it would mean other teachers were paid less than their colleagues despite having similarly demanding workloads and responsibilities.
"This would be unfair and demoralising and would damage recruitment and retention in subjects which did not benefit from salary supplements. Instead we would like to see a better deal for teachers in general."
Nansi Ellis, assistant general secretary of the National Education Union (NEU), said: "The workload situation in schools and the punishing pressures of accountability are having a deterrent effect on recruitment, and are pushing too many teachers to leave the classroom.
"Putting the emphasis on pay supplements to maths and science teachers will not deal with these critical issues – it's an attempt to find a cheap solution to the problem of uncompetitive pay levels across the whole range of teaching."
She added: "The government has to face up to the fact that its policies have created a system which makes prospective teachers think twice about their choice of career. It would be unfortunate if this EPI report encouraged it in a quest for partial, sticking-plaster solutions."
A Department for Education spokeswoman said: "The Education Secretary has been clear that there are no great schools without great teachers and his top priority is to make sure teaching remains an attractive and fulfilling profession.
"There are still more than 450,000 teachers in our classrooms, 11,900 more than in 2010, and increasing numbers are returning to the profession.
"We recently announced a fully-funded pay rise for classroom teachers and we are working with school leaders and unions on a strategy to drive recruitment and boost retention of teachers and strip away unnecessary workload.
"This is on top of the range of financial incentives we already offer to help attract the brightest and best into our classrooms."
Source: Independent