Educating Greater Manchester head Drew Povey resigns
Posted on: 2018-09-18 09:00:00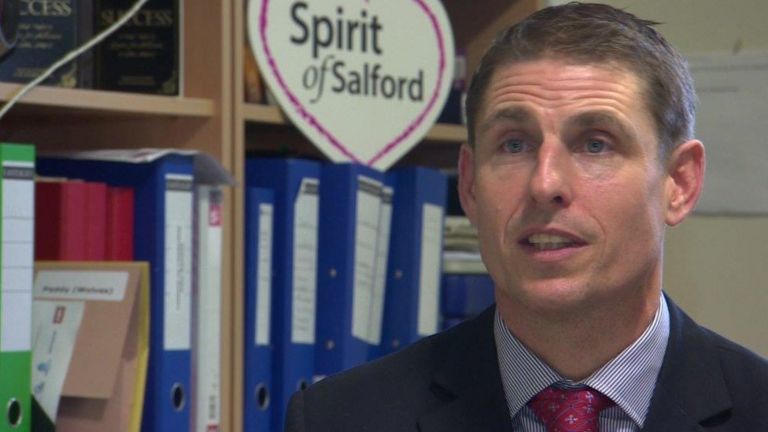 Drew Povey was in the TV series Educating Greater Manchester
Drew Povey, head at Harrop Fold School in Little Hulton, Salford, was suspended in July.
The BBC understands the suspension relates to school record-keeping.
Salford City Council denied the allegation that it was a personal vendetta against Mr Povey.
Three other members of staff were suspended as part of the investigation.
In a tweet, Mr Povey said he could no longer sit quietly under the "threat" of not being able to comment.
He said he understood his suspension related to administrative errors involving a "very small number of pupils" about how attendance, exclusions and home schooling were recorded.
'Wide-ranging investigation'
Mr Povey said he took full responsibility for the errors, but did not believe they "constitute grounds for me to be pursued in the way that I have been".
"This feels very much like a personal vendetta and I hope that by removing myself from the situation, that some semblance of normality will return to the school, for the benefit of all," he said.
He said the "protracted" investigation had created uncertainty and had had a "detrimental impact" on the school.
Lisa Stone, the council's lead member for children's and young people's services, said she was disappointed that Mr Povey had made some details of the investigation public.
"In my experience governors do not launch investigations and suspend senior members of staff for mere administrative errors," she said.
"This is an in-depth and wide-ranging investigation into many serious allegations and it will continue in the interests of the school, pupils, parents and the members of staff who remain suspended.
"The governing body is trying to reach a conclusion as quickly as possible.
"It is in no-one's interests to rush through something so serious."
'Dignified resignation'
Hundreds of people had signed a petition calling for Mr Povey to be reinstated.
Some Twitter users have expressed their support for Mr Povey.
Ty Goddard said he had been "shocked" by the situation and praised the former head teacher for a "dignified and sensitive" resignation letter.
Paul Dix said Mr Povey had "done so much" for the school and the community.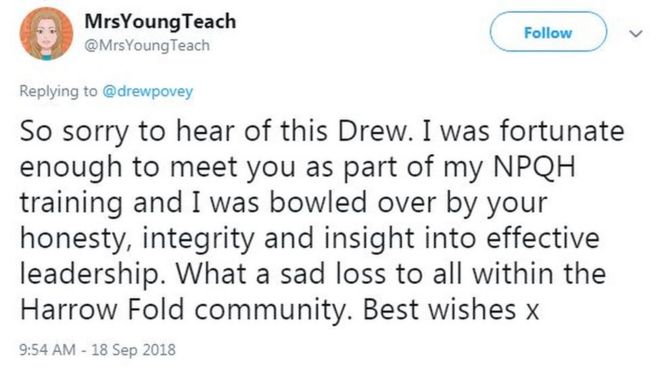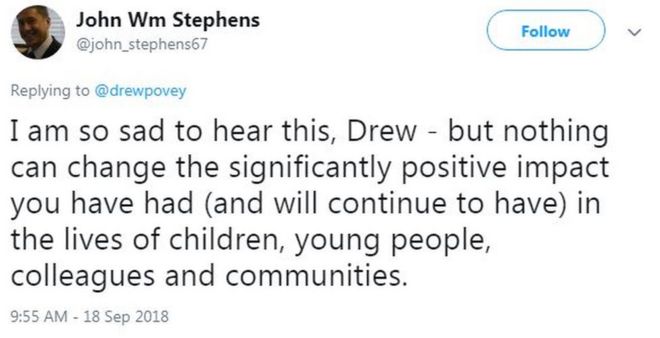 Harrop Fold School announced the appointment of interim head teacher Damian Owen earlier this month.
Channel 4 has been filming a second series of the show at the school.
The award-winning documentaries, which have previously focused on Yorkshire, Cardiff and Essex, have won praise for their coverage of the lives of teenagers and teachers.
Source: BBC News