Councils spent £160m on school transport for children with special needs – survey
Posted on: 2018-11-20 00:00:00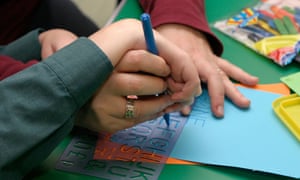 Many children with special needs have to travel long distances to attend an appropriate school. Photograph: Don Tonge / Alamy/Alamy
Councils spent more than £160m last year on taxis and private hire vehicles to transport children with special educational needs and disabilities (SEND) to and from school, according to a survey seen exclusively by the Guardian.

England's county councils are warning that rising demand for SEND services is "creating budget risks" for local authorities, with school transport costs for children with special needs up by as much as 45% in some areas in the last four years.
The survey by the County Councils Network (CCN) shows that total spending on transport for pupils with SEND in 2017-18 was more than £323m across 36 county authorities in England, up from just under £250m four years ago.
Many children have to travel long distances to attend an appropriate school. Councils say they are being inadequately funded by central government and are calling for more money in next year's spending review to match growing demand.
Some local authorities have already started to cut any SEND transport services, which they believe they are not legally obliged to provide. North Yorkshire, Staffordshire, Leicestershire, and Buckinghamshire have all outlined cutbacks to post-16 free transport for pupils with SEND.
Families have launched legal action in a number of areas across England in an attempt to halt cuts to SEND budgets. Bristol council was forced to reverse planned cuts, and families in Surrey and the London borough of Hackney are awaiting judgments following judicial review hearings.
Other families are seeking to bring legal action against the government, accusing ministers of failing to provide adequate funding for children with special needs.
For many authorities, expenditure on private hire vehicles makes up the bulk of their SEND transport costs. Kent county council, which is one of the largest in the country, has the biggest spend on taxis and private hire, according to the survey. Kent spent £22.7m out of its total £24.9m spend on SEND home to school transport last year – a 45% increase since 2014.
Surrey was the second highest, spending £23m on home to school transport for children with special educational needs – 32% up on 2014 – and Hampshire spent £19m, a 36% jump in the last four years.
Carl Les, the CCN spokesman for children's services and education, and the leader of North Yorkshire county council, said: "These services are a lifeline for our young people, particularly in rural areas, and the fact that these pupils with learning disabilities and special needs are living longer is something to be celebrated, but these services must be adequately funded.
"Regrettably, we are having to scale back the services we aren't legally obliged to deliver or reroute funding from other services because the current funding for school transport is not keeping up with demand."
The 23 county authorities which provided details of expenditure on private hire taxis and minibuses – which are necessary for pupils with specific needs – said they spent £166m on these vehicles last year, compared with less than £128m four years ago.
One of the key drivers of growing demand for SEND services has been legislative changes introduced by the 2014 Children and Families Act, including raising the SEND eligibility age from 18 to 25. The CCN, which is this week holding its annual conference in Guildford, said population growth and improvements in medical science had also contributed to an increase in the number of pupils with SEND.
Families and experts in the sector say SEND services are in crisis, with some councils unable to meet their legal obligations to children. A survey of parents of deaf children reveals that nine out of 10 are worried about the future of their child's support at school.
The poll of more than 1,000 parents by the National Deaf Children's Society (NDCS) shows that 82% feel there is not enough funding for deaf children's education in their area. Only 5% of parents felt the situation had improved for them and their deaf child since the government's SEND reforms in 2014, with almost half saying things had got worse.
Susan Daniels, the chief executive of NDCS, said: "Despite the government's repeated claims of record funding, this evidence shows that support is simply not getting to the deaf children who so desperately need it.
"We now find ourselves in a situation where an overwhelming majority of parents fear for the future of their deaf child's education and this is completely unacceptable."
The shadow education secretary, Angela Rayner, said: "In the past eight years the Tories have brutally cut SEND funding and as a result the system for supporting deaf children has been left completely devastated."
A government spokesperson said: "Local authorities are required to provide transport to school for children with special educational needs and disabilities if they would not be able to walk there.
"To support councils with this, the government will provide £90.7bn over the next two years to help them meet the needs of their residents which includes providing this transport for children and young people with SEND."
Sally Weale Education Correspondent
Source: The Guardian