Colleges exaggerating arts students' career prospects, says Ofsted chief
Posted on: 2018-11-21 18:45:00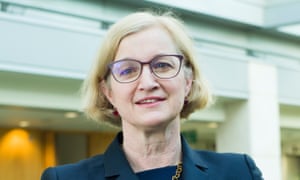 Amanda Spielman is the chief inspector of schools in England. Photograph: Graeme Robertson/Guardian
Further education colleges are giving false hope to students when they offer courses with slim or unrealistic job prospects in the arts and media, the head of Ofsted has said.

Amanda Spielman, the chief inspector of schools in England, also called for the government to increase its funding to FE colleges, as Labour warned that a growing number faced financial difficulties.
Spielman told the Association of Colleges' annual conference that many of the 170,000 young people in England taking level-two qualifications such as NVQs were being offered courses that exaggerated their future career prospects.
"Arts and media does stand out as the area where there is greatest mismatch between the numbers of students taking the courses and their future employment in the industry," Spielman said.
"Yet even with the poor prospects, course adverts often listed potential jobs in the arts which are, in reality, unlikely to be available to the vast majority of learners, but underplay the value of other skills these courses develop. These colleges risk giving false hope to students.
"It raises the question: are they putting the financial imperative of headcount in the classroom ahead of the best interests of the young people taking up their courses? If so, this isn't acceptable."
Steve Frampton, the Association of Colleges' president and a former principal of Portsmouth College, took issue with Spielman's remarks, arguing that the creative industries were a major employment sector.
"Colleges contribute greatly to developing the workers driving this major economic force for the UK. As the creative industries continue to grow, so too will the demand for a skilled and flexible workforce," Frampton said.
"But industries like the arts and journalism are still too often a closed shop, only accessible for those who have family connections to get them through the door. By working with employers and by offering a strong, industry-focused education, colleges are helping to open up these professions."
Ofsted has published a report on level-two qualifications, which rank below qualifications such as A-levels or advanced apprenticeships.
In her introduction to the report, Spielman said of students taking these qualifications: "In the corridors of Whitehall and Westminster they risk being seen as 'other people's children'. As a result they have been overshadowed by the larger and better-understood majority who progress directly on to level-three study after completing GCSEs."
Spielman said Ofsted's report found there were many students of "unrealised potential" taking level-two courses, whose employment prospects depended on teachers' abilities to motivate them to go further.
Spielman also called for the government to improve funding for 16- to 18-year-olds as part of its review of tertiary education funding. "There are colleges where significant staffing cuts have been made, where teaching hours have been reduced and where the curriculum offer has been narrowed, reducing enrichment or tutorial time, or by offering fewer courses," she said.
Labour said a large number of colleges in England risked insolvency within the next decade because of increased pensions costs.
Angela Rayner, the shadow education secretary, said: "The Treasury is imposing new unfunded pension costs of £80m a year from 2020, amounting to more than £300,000 per college. So I want to reiterate our call on the government to give all schools and colleges the certainty they need and guarantee that their budgets will be protected from these stealth cuts."
Richard Adams education editor
Source: The Guardian