Call to expel UK students who take part in initiation rituals
Posted on: 2018-11-29 09:30:00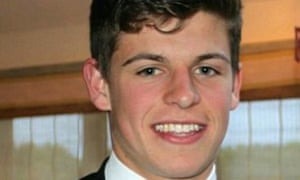 An inquest found Ed Farmer died as a result of the 'toxic effects' of excessive drinking
The father of a student who died after a university society initiation at which revellers downed shots of vodka from a pig's head has called for anybody involved in future ceremonies to be expelled.

Jeremy Farmer, whose son Ed died after an agricultural society initiation at Newcastle University, called for a zero-tolerance approach to the "pointless" ceremonies.
"I think they are all banned at universities across the country, it's just that they weren't implementing the ban," he told BBC Radio 4's Today programme.
"We are of the opinion that … [universities should] draw a line in the sand so that from here on in everybody knows initiations are banned and if you step over that line you will be removed from university."
An inquest into the 20-year-old economics student's death last month foundhe diedas a result of the toxic effects of excessive drinking at the agricultural society event. About 20 first-year students attended the bar crawl in December 2016, at which "older students" ordered a round of 100 triple vodkas, according to witnesses at the inquest.
A "terrified" Farmer was later taken to the home of James Carr, the agricultural society's chair at the time, where fellow students shaved his head and he was left passed out in a hallway, the inquest heard. He was taken to hospital at 5am, soaking wet, covered in soil and five times the drink-drive limit.
Carr told the inquest how first-year students were told to drink shots of vodka from a pig's head while crawling to his garage to have their heads shaved.
Expert witnesses told the inquest how excess alcohol had caused Farmer to have a cardiac arrest, which led to brain damage and his death two days after the initiation. The inquest also heard evidence that Farmer's fellow students had tried to cover up events by messaging each other before police interviews saying "deny, deny, deny".
Farmer also criticised the bars that sell cheap vodka. "For a round of 100 triple vodkas to people that they had got no idea of their state is maybe wrong on their part," he told the Today programme.
The student's father also opened up about the moment he found out about his son's condition. "The first I knew that something had gone wrong was on the Tuesday morning at [6.40am] when I heard a vehicle coming up the drive and looked out the window and saw it was a police car.
"It was, in fairness when the police arrived at the house I was 99% certain that he would be a cabbage. Helen, my wife, she was more optimistic but certainly when we got up to the Royal Victoria infirmary they did say that he was in a very serious state. They'd done a brain scan and the brain was dead."
Farmer said he did not blame the students who took part in the initiation or the university for his son's death.
A Newcastle University spokesman said last month: "The university conducted its own disciplinary investigation into the social event. A number of students were issued with sanctions in line with our disciplinary proceedings including the most severe penalty of expulsion from the university."
Simon Murphy
Source: The Guardian