BBC headteacher tells of outpouring of sympathy after he resigned on TV
Posted on: 2018-11-27 07:00:00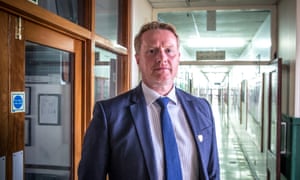 James Pope at Marlwood school: 'Balancing the books simply became the overriding factor in nearly everything we did.' Photograph: Ryan Mcnamara/Multitude Media
James Pope has not been watching School, the BBC2 documentary he stars in. "I was hugely nervous. You don't know how people will view you. Despite four years of generally very positive feedback from my line managers, governors, the trust and community, I thought there was a risk people would watch it and go: what an idiot."
The series follows the pupils, teachers, parents and leaders of different secondary schools in a multi-academy trust across the 2017-2018 academic year. It shows Pope struggling to improve standards at Marlwood, a rural secondary modern in Gloucestershire that has been put into special measures by Ofsted, while simultaneously being expected to cut nearly £1m from his annual budget. Teaching, leadership and support staff numbers are decimated, class sizes are increased, morale falls; pupils and teachers struggle to shake off the label "inadequate". Last week, in episode three, after a poor Ofsted report, Pope is seen handing in his resignation. He says the resultant outpouring of empathy from headteachers has been remarkable.
"I started my headship with a vision of what I wanted to achieve and I came to realise that increasingly, I was making compromises," he says. "And the more you have to compromise, the more you sit there thinking: this isn't what I wanted to do. This isn't what I thought my headship would be about."
Although he was aware the school was in a "bit of a mess" when he was appointed four years ago, he had no idea what was coming. Within six months, he was facing a £500,000 shortfall. The following year, he was asked to save roughly £800,000. "We had to do a support staff restructure. A lot of the pastoral support elements had to go." A year later, about another £800,000 came off his budget – and the following year, just as the BBC cameras started to roll, Pope was told to cut a further £970,000: 40% of the school's annual income. "Balancing the books simply became the overriding factor in nearly everything we did."
Initially, the cuts reflected a shrinking population in Marlwood's rural catchment area. But Pope, who has 21 years' experience as a teacher, says the financial pressure was compounded by the "unfair" cuts being levied on all schools by the government. "On top of the savings we were having to make uniquely at Marlwood, you pile the cuts in real terms that all schools are having to deal with …" He shakes his head. "It's not right."
Poor Ofsted reports made the situation worse, putting parents and teachers off the school despite improvements in exam results under Pope, leading to even fewer pupils, stressed staff and further cuts. "I had to explain to parents: you don't get anything special if you're put in special measures. There is no more money. You don't get any additional support or resources. In my experience, all you get is additional scrutiny and additional pressure."
He began working 14-hour days, getting up at 5am and returning home at 9pm, only to carry on working. A father of four children aged three to 13, he found it difficult to switch off. "It ended up becoming all consuming. I'd be doing something nice with my family and in the back of my mind I'd be thinking: well, if I did this or that, I might just save another £50,000."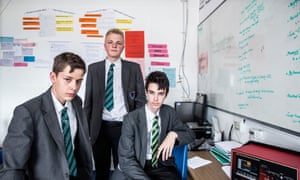 A scene from the documentary. Photograph: Ryan Mcnamara/Multitude Media

He describes making cuts while at the same time trying to impress Ofsted as like "stepping into the ring with Mike Tyson, and somebody's tied one arm behind your back". Inspectors did not seem to take into account the financial and cultural challenges the school was going through. "I needed more understanding of our context and of the difficulties we faced, and more time to actually make the changes that were necessary."
What stressed him out the most was knowing the impact the cuts were having on his pupils. "It's not so much the financial pressure that got to me. It's that it stopped me doing the educational stuff I wanted to do. You have these conversations: Can we do that? No, we can't afford it. Can we put that in place? No, we can't afford it. So you just end up compromising all of the time to try and get the best out of what you have got."
The lack of support his academy trust received from the Department for Education appalled him.
"Like lots of schools up and down the country, we'd written to the DfE about funding and campaigned collectively as a trust. But it's easy for that to be swatted away with a line about how education funding has not been cut."
That is why he let the cameras in: to give his community an insight into the problems the school was dealing with, while making it harder for the DfE to explain away what viewers saw with their own eyes. "There is now very real evidence of the challenges we were facing. And judging from the number of people who have been in touch to say 'that's what my school is like', what's been happening at Marlwood is not unique."
He has started a blog about his experiences. "I want to use what is a fairly unique opportunity for me, thanks to the TV series, to ask some questions about what special measures means," he says.
"You're struggling, your social or financial context is really hard, but what you're doing in the classroom isn't good enough [for Ofsted] and we're just going to keep telling you it isn't good enough. Rather than repeatedly bashing these schools over the head with a big stick saying 'you're now in special measures', we need to be looking at whether there is something fundamentally wrong with the sector. Because it's perverse. The very schools we need to support the most are not getting that support, financially or otherwise."
After leaving Marlwood, Pope set up a consultancy, Inspire Educate, and hopes to use his experiences to help other school leaders.
Today he looks years younger than on TV, and seems a lot happier. What made him finally decide to go? "Ultimately, there was one compromise too many. I felt as if I was in a position at many points last year where I just could not win, because of a financial situation nobody appeared able to help us to solve. And then I reached a point where I thought: you know what? I am fed up with compromising. These children are the future of this country. Are we prepared, as a society, to invest in our young people – or not?"
School is a six-part series at 9pm on Tuesdays on BBC2
Donna Ferguson
Source: The Guardian