£3.5bn cut for school buildings leaves pupils in crumbling classrooms – Labour
Posted on: 2018-10-26 00:00:00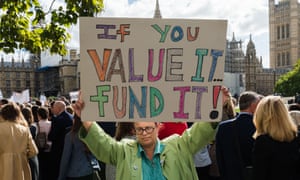 School budgets are at breaking point and need new money from the Treasury. Photograph: Wiktor Szymanowicz/Barcroft Images
Government spending on England's ageing school buildings has fallen by £3.5bn, leaving thousands of children in classrooms that are "leaking and crumbling around them", according to Labour.

Data analysis has shown that capital expenditure on schools in 2010-11 was £8.8bn, but will fall to £5.2bn in 2018-19 – a 41% real terms cut – at a time when the majority of schools are in need of repair, says Labour.
Headteachers say they are struggling to keep buildings safe for children and teachers, with reports that playgrounds in some schools have had to be cordoned off and classrooms closed.
There are also concerns over the presence of asbestos. According to the National Education Union, more than 200 teachers have died since 2001 from mesothelioma, a form of cancer associated with asbestos.
Angela Rayner, the shadow education secretary, said: "It's shameful that the Tories have cut billions of pounds of investment from the school infrastructure budget, despite knowing that the majority of our schools are in urgent need of repair.
"It is simply not acceptable that thousands of our children are learning in schools and classrooms that are leaking and crumbling around them."
Labour's analysis – conducted ahead of Monday's budget – was based on data published by the Institute for Fiscal Studies. The IFS pre-budget report shows that although day-to-day education spending is down, it is the capital spending budget which has fallen more dramatically.
The National Audit Office (NAO), which scrutinises public spending, reported last year that 60% of the school estate in England was built more than 40 years ago and estimated it would cost £6.7bn to restore all buildings to a satisfactory condition (pdf).
The report goes on: "The Department [for Education] expects the condition of the school estate will worsen as it cannot fund all the maintenance and improvement work required. The way the system works adds to the risk that the department may not achieve its aim of preventing buildings that are in reasonable condition from deteriorating."
The most common defects, according to the NAO report, include problems with electrics and external walls, but school leaders say the problems are serious and wide-ranging. One school in the West Midlands was reported to have 300 holes in its roof.
Paul Whiteman, general secretary of National Association of Head Teachers, said: "School leaders tell us they are struggling to keep schools safe for children and staff, with reports of playgrounds cordoned off, classrooms and facilities out of bounds, and asbestos unable to be removed.
"With school budgets at breaking point all they can do is paper over the problems instead of repairing them. Only new money from the Treasury can solve this, and we urge the chancellor to act in the budget on Monday."
Labour is calling on Philip Hammond to deliver a budget to end austerity and a multibillion injection of funds to reverse education spending cuts.
A DfE spokesperson said the government had committed £23bn over 2016-21 to ensure the school estate is safe. "In addition, our priority school building programme is rebuilding and refurbishing over 500 school buildings in the worst condition across the country."
Sally Weale, Education Correspondent
Source: The Guardian